Housatonic Community College is Becoming CT State Housatonic on July 1, 2023!
The CT State admissions application is now open for Fall 2023 Enrollment.
Select an application below based on how you would like to enroll:
All continuing, degree-seeking students will become CT State students as of July 1, 2023.
Transferring to Housatonic
Are you planning to transfer credit to complete an associate degree at Housatonic Community College or would like to enroll in a class to transfer back to your home institution? Housatonic Community College will accept courses in transfer with a grade of C-minus to be applied towards HCC programs except where courses and prerequisites stipulate a grade of C or better. Students are advised to check the academic catalog to see which courses require a C or better grade for credit toward the degree or to fulfill the prerequisite requirement.
Admissions Application
The first thing you need to do is submit an Admissions Application form to the Admissions Office, and pay the application fee. (Select TRANSFER student on the application.) In addition, you will need to submit all of the admission application requirements to the Admissions Office. Allow 24 hours for your online application to be processed.
Click here to go to the Online Application
Admission application requirements to the Admission Office (Lafayette Hall, Room L111):
Proof of Immunization. MMRV (Measles/ Mumps/ Rubella/ Varicella) immunization.
High School or GED proof of graduation (copy of high school diploma or send an official high school transcript from the high school)
Advising
Official college transcripts are to be sent to Housatonic before the student's second semester enrolled. First time Transfer – In Advising is available to students with unofficial transcripts only in the first semester. Advising Days are held on Tuesdays and Thursdays from 10:00am – 3:30pm.
Transfer In Guidelines
Students must be accepted by the Admissions Office and enrolled in a Degree or Certificate Program.
Make sure you notify the Admissions Office immediately upon admittance, that you have transfer courses from another college or university.

In order for your transfer courses to be evaluated and accepted at HCC, you must provide official college transcripts and complete the transfer evaluation form by clicking the link below.

PLEASE NOTE: Visiting students should not complete this form.




Mail: Contact your previous college and request an official transcript be mailed to HCC:
Housatonic Community College
Admissions Office
900 Lafayette Blvd
Bridgeport, CT 06604

PLEASE NOTE: Evaluations take approximately two weeks to complete

Online Request (electronic transcripts or e-transcripts):: Visit your previous college's website. Many colleges offer online college transcript requests. In this case, you complete an online request form and your official college transcript is sent electronically to HCC's Transfer-in Office. Send e-transcripts to: .

Deliver In-person: Contact your previous college and request an official transcript be mailed directly to you or pick up the document in-person. *Do not open the envelope. Bring the sealed envelope to the Admissions Office, Lafayette Hall, Room L111. Any 'opened' and unsealed envelope will be considered 'unofficial', and cannot be officially applied to your degree or certificate program.

Courses are evaluated and officially accepted. For assistance, please visit the Admissions Office (LH, Room L111).
Course Descriptions: Transfer students are required to provide course descriptions for courses completed 5 years ago or more.
Unofficial Transcripts: Any 'opened' or unsealed envelope, faxed, scanned or copies of college transcripts. These cannot be officially applied to your degree or certificate program. Any continuing transfer student who has not submitted their official transcripts after completing their first semester at HCC will not be able to meet with an advisor for registration. They MUST submit an official transcript by the start of the second semester registration period in order to register.

Checking to see your transfer courses accepted at HCC:

Visit the HCC website
On the right, click MyCommNet
Log into MyCommNet
Select Degree Works - Housatonic Community College
Enter your Student ID#/name
Under format, select Degree Evaluation
TR will indicate transfer courses

Scheduling a meeting: The Admissions Office staff will assist transfer students with transfer related information; and assess each student's needs in order to determine if an individual meeting is necessary. To schedule a meeting: Call 866-526-6008 or email

.
BHSN Graduates are responsible for having their official transcripts sent directly to the Admissions Office.
Graduating students have priority status: HCC students with 50+ credits, and plan to graduate from HCC, may notify the Admissions Office accordingly. As a result, your transcripts will be evaluated as soon as possible.
Click here to go to the Transfer Planning page.
Click here to go to the Transfer Planning page
---
Click here for the Office of Higher Education's page on public and private transfer programs throughout the state.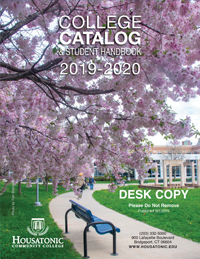 Click Here to download the latest HCC Catalog.