Events Management - External Events
Facility Capacity
The number of attendees you anticipate and the kind of event you plan to have will dictate the capacity of the room to accommodate your event. Our largest facility, the Events Center, will accommodate the following:
Banquet Style … a maximum of 24 tables seating 10 each … 240
Auditorium Seating … 250-280 depending on the specific nature of the event
Special Setup … Maximum capacity will be determined based on what type of setup is requested.
Pricing
Pricing depends on the length of time and what space on campus is being utilized. Take a look at the rate chart below for the most up to date pricing information. Please note that we offer both corporate and discounted non-profit rates along with possible discounts for repeat customers.
Full Event Center (A, B & C)
| | |
| --- | --- |
| 1st - 4 Hours | $750.00 |
| Additional Hours | $180.00 |
| Not-For-Profit Rates | $560.00 |
| Not-For-Profit Additional Hours | $135.00 |
| Maximum Capacity | 300 |
Half Event Center (A, B or C)
| | |
| --- | --- |
| 1st - 4 Hours | $500.00 |
| Additional Hours | $120.00 |
| Not-For-Profit Rates | $375.00 |
| Not-For-Profit Additional Hours | $90.00 |
| Maximum Capacity | 150 |
Setup/Teardown … We require an additional hour each for set-up and teardown unless your event itself is 2 hours or less.
Catered Events. Additional set-up time is normally required for catered events. This is in addition to your own set-up time.
Contract Packet
A contract packet returned to HCC should include a Facility Rental Contract, Non-discrimination Form, Certified Resolution and proof of liability insurance.
Speaker Request
If you are interested in having someone from HCC speak at your event, please indicate this request on the Facility & Speaker Request Form. Please note that the speaker may or may not be available, and will be planned based on the schedule..
Catering
The college has a contracted caterer who provides cafeteria service for the college. This vendor also caters for events in the center. If this vendor is of interest, contact information can be provided.
You are also free to contract your own caterer.
Catering arrangements are all handled by the client.
There is a kitchen adjacent to the event center that can be used for warming and limited food preparation.
Event Planning
We do not provide full service event planning. However, we do coordinate with various on-campus services required for your event. We also meet in advance with you to lock in your requirements, and in the case of a major event, conduct a production meeting at least one week in advance to finalize all logistics.
Audiovisual & Facilities Support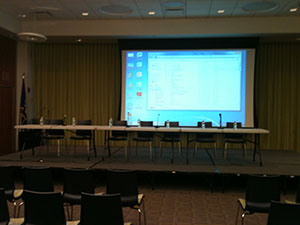 The event center provides a full complement of audiovisual projection capability with computer, digital drive,
and Internet access.
A house sound system is available for all events.
The event center also has limited house lighting configurations which you are free to use.
Audio requirements exceeding a 4-microphone configuration will require the services of a separate supplier.
CANCELLATION POLICY: The Events Coordinator should be emailed by the event requestor regarding a cancellation at least two days before the event with the department Administrator and Dean copied.