HCC Foundation Scholarships
The Housatonic Community College Foundation is committed to the education of all its students. To this end, financial assistance is available for tuition and fees for academic achievement or financial aid as determined by the Scholarship Committee of the Foundation Board of Directors. The HCC Foundation Scholarship Office is located in Beacon Hall, room 281.
Applications for the Winter & Spring Scholarships are both closed.
Summer Scholarships will open early February.
Apply
---
Lockheed Martin Scholarships
STEM Scholarship — A best-in-class scholarship program will award $10,000 yearly scholarships to 200 STEM students who demonstrate financial need and come from an underrepresented group or underserved community.
Click here for more info.
Vocational Scholarship — Lockheed Martin will award $6,600 yearly scholarships to 150 vocational students to fund degrees at accredited vocational-technical schools to prepare students for careers in technology and/or advanced manufacturing that does not require a bachelor's or advanced degree.
Click here for more info.
---
American Association of University Women - BRIDGEPORT CT BRANCH Inc. of AAUW
College scholarships are available for local women who have not received prior AAUW scholarship aid. Approximately $5000 in total funds will be awarded this year. Applicants must have at least 30 college credits and have been residents of any of the following towns for at least two years: Bridgeport, Easton, Fairfield, Monroe, Newtown, Shelton, Stratford, or Trumbull.
Please Review The Checklist!
---
Big Y's Scholarship Program The application is available from Nov 1st – Feb 1st.
Big Y has awarded 4.9 million dollars to over 6,700 students since the beginning of the program.
Big Y® Foods, Inc. is one of the largest, locally owned supermarket chains in Southern New England. A family-owned and operated corporation, Big Y has represented excellence in the food industry since 1936.
In tribute to both its employees and its customers, Big Y offers an annual scholarship program. Established in 1981, the program includes a series of scholarships which honor Big Y's founders; the late Paul H. D'Amour and his brother, Gerald D'Amour. In addition, there is a scholarship series that was originally funded by Big Y employees to commemorate Big Y's 50th Anniversary, one recognizing the contributions of area law enforcement officers and firefighters and a category that acknowledges the tremendous sacrifice made by all Military Service members and their families.
All Big Y scholarships recognize academic merit and achievement. They are awarded to the most academically outstanding students in the Big Y market area. There are awards for both traditional and nontraditional students at the undergraduate and graduate levels.
Please Review The Checklist!
---
Main Street Community Foundation
Scholarships for High School Seniors, College Students and Adult Learners.
The Main Street Scholarship Directory lists each scholarship available for high school seniors, college students and adults returning to school and details the eligibility criteria; it becomes available January 15th of each year. The Community Foundation requires completion of an online application for each scholarship.
Click here to access the online application website: MSCFScholarships.CommunityForce.com.
---
The Connecticut Valley Litho Club Scholarship Application Form and Guidelines
Please Review The Checklist!
---
Connecticut Association of Latinos in Higher Education, Inc. Scholarships Now Available!
CALAHE is delighted to be able to offer scholarship opportunities to Incoming freshmen students and college undergraduates. We hope that we will be able to assist you in defraying some of your college costs. Please review the scholarship criteria carefully to see if you qualify. Go to calahe.org for further information.
More details and application found here
---
CSCU CT Undocumented Students Aid Application
This application is exclusively for a specific group of undocumented students who cannot apply for federal student aid. If you have questions about which application to use, contact the financial aid office.
Institutional aid may only be granted to students who would be otherwise eligible for financial aid excepting their undocumented status. All students must show financial need, make satisfactory progress, and must be enrolled in a Title IV aid-eligible program to receive institutional aid.
A Notary Public must witness your signature in Part One of this form. A Notary is a person specially trained to certify affidavits and signatures. The Financial Aid Office at your school can let you know the availability of free notary services at your school. Free notary services may also be available at certain banks and libraries.
CT students without legal immigration status who are NOT Veterans of the U.S. Armed Forces, but meet the conditions for in-state tuition per subsection (9) of C.G.S. § 10a-29, may apply for institutional financial aid in the 2019-2020 aid year. Aid for these students may be available beginning in Spring 2020.
Only CT students without legal immigration status who are Veterans of the U.S. Armed Forces and who meet the conditions for in-state tuition per subsection (9) of C.G.S. § 10a-29 may apply for aid for Fall 2019 term.
Students who may be eligible for federal student aid should fill out a FAFSA at https://fafsa.ed.gov. The results of the FAFSA will be used to determine eligibility for federal, state, and institutional aid.
Aplicación en Español
Application in English
---
Fairfield County's Community Foundation (FCCF) Scholarships
Fairfield County's Community Foundation manages a large and exciting scholarship program for both graduating high school seniors and full-time students already enrolled in college. The 2020 scholarship program has closed. No late submissions will be accepted. Please check back in mid-January 2021, when the next program begins.
We steward over 150 scholarship funds established by generous individuals, businesses, and nonprofit organizations that help students pursue their college education and strengthen the future of our communities. These funds cover many different areas of study and may have their own eligibility criteria.
TYPES OF SCHOLARSHIPS
There are three different types of scholarships offered in our program:
Designated scholarships for specific high schools
Competitive scholarships for graduating high school seniors
Competitive scholarships for current college students
General Eligibility & Requirements

Please review the general eligibility criteria below to be sure you are eligible to apply
Review the General Eligibility Requirements here
---
CHESLA Scholarship
The next round of the CHESLA scholarship cycle is here! The CHESLA scholarship application for students pursuing a healthcare or manufacturing certificate opened on July 1st! The application is an open application available on a first come, first serve basis until funds run out. Any applicant that has an EFC below 6,000 and provides a letter of recommendation may receive a certificate program scholarship. Non-credit certificate programs qualify for this scholarship.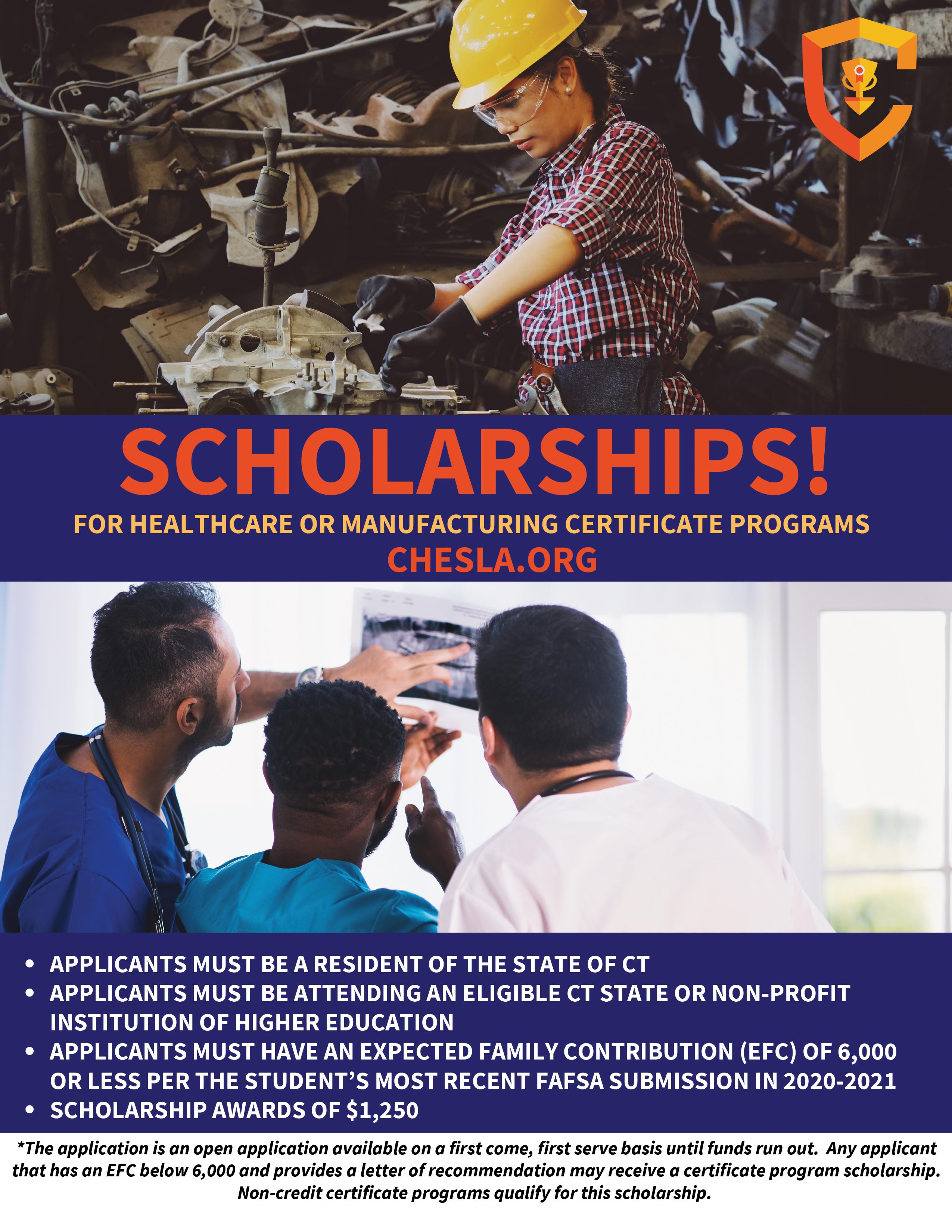 Download a flyer for more information.
Students can apply at CHESLA.org
---
The Network of Executive Women to Offer Undergraduate Scholarships
The Network of Executive Women of Milford has announced that scholarship applications will be accepted through October 20, 2020. Undergraduate scholarships are available to women residing in or attending school in New Haven or Fairfield Counties who demonstrate financial need. Applicants must be returning, continuing, or commencing schooling or other types of training to further their educational goals and/or enhance their job skills. Current high school seniors and 2020 high school graduates are NOT eligible. In fairness to all applicants, completed applications will be considered only if submitted by the deadline of October 20, 2020. For questions or applications, please contact Lauren Tropp at .
About The Network of Executive Women:
The Network of Executive Women, Inc. was founded in 1979 and provides a platform where business and executive women share ideas and accomplishments while supporting the goals of all members. The Network of Executive Women is dedicated to providing educational opportunities for women in need of financial assistance by awarding annual scholarships. These scholarships are funded through Network-sponsored events, member participation, and private donations.
---
Les Treize Scholarship
Must be a graduating senior from a high school in: Bridgeport, Fairfield, Monroe, Stratford or Trumbull.
Must plan to attend and be a full-time student at an accredited 2-year or 4-year college or university
Applicant must be African-American.
Walter Breslav, Jr. Scholarship
Available to applicants seeking a Bachelor's degree in business and/or finance.
Must plan to attend and be a full-time student at an accredited 4-year college or university.
Preference given to applicants that demonstrate a strong social conscience.
Click For More Information
---
CONNTAC Inc. Scholarships
CONNTAC, Inc. offers a scholarship to students every year. If students are eligible please refer them to the Educational Counselor nearest you to assist with the application process. Prospective recipients must be a documented participant of CONNTAC in order to for their scholarship application to be considered by the Board of Directors' Scholarship Committee.
Please refer to the following link for a CONNTAC office near you: http://www.conntacinc.org/service-area.
The CONNTAC, Inc. Scholarship Application is also available on our website: http://www.conntacinc.org/images/PDF/application.pdf
REQUIREMENTS: 1. Individual must NOT be a client of another TRIO program within Connecticut. This includes any Talent Search, Upward Bound, Student Support Services or Ronald McNair Post Baccalaureate programs. 2. Must be a documented CONNTAC – E.O.C client for FY 2019-2020 (September 2019 – August 2020). Contact the Central Office at (203) 634-7669 for further information. 3. Demonstrate that you are low-income and or have financial need. 4. Neither your mother nor your father has earned a Bachelor's degree. 5. Show you are attending or will be attending a postsecondary institution for the semester in which the award is given.
APPLICATION DUE DATE: DEADLINE HAS BEEN EXTENDED TO JUNE 15, 2020. No exceptions for late applicants.