HCC Foundation Scholarships
The Housatonic Community College Foundation is committed to the education of all its students. To this end, financial assistance is available for tuition and fees for academic achievement or financial aid as determined by the Scholarship Committee of the Foundation Board of Directors. The HCC Foundation Scholarship Office is located in Beacon Hall, room 281.
Winter Scholarship application is now open until 9AM on Tuesday, 11/3/2020 NO Exceptions!
Apply
---
Connecticut Association of Latinos in Higher Education, Inc. Scholarships Now Available!
CALAHE is delighted to be able to offer scholarship opportunities to Incoming freshmen students and college undergraduates. We hope that we will be able to assist you in defraying some of your college costs. Please review the scholarship criteria carefully to see if you qualify. Go to calahe.org for further information.
More details and application found here
---
CSCU CT Undocumented Students Aid Application
This application is exclusively for a specific group of undocumented students who cannot apply for federal student aid. If you have questions about which application to use, contact the financial aid office.
Institutional aid may only be granted to students who would be otherwise eligible for financial aid excepting their undocumented status. All students must show financial need, make satisfactory progress, and must be enrolled in a Title IV aid-eligible program to receive institutional aid.
A Notary Public must witness your signature in Part One of this form. A Notary is a person specially trained to certify affidavits and signatures. The Financial Aid Office at your school can let you know the availability of free notary services at your school. Free notary services may also be available at certain banks and libraries.
CT students without legal immigration status who are NOT Veterans of the U.S. Armed Forces, but meet the conditions for in-state tuition per subsection (9) of C.G.S. § 10a-29, may apply for institutional financial aid in the 2019-2020 aid year. Aid for these students may be available beginning in Spring 2020.
Only CT students without legal immigration status who are Veterans of the U.S. Armed Forces and who meet the conditions for in-state tuition per subsection (9) of C.G.S. § 10a-29 may apply for aid for Fall 2019 term.
Students who may be eligible for federal student aid should fill out a FAFSA at https://fafsa.ed.gov. The results of the FAFSA will be used to determine eligibility for federal, state, and institutional aid.
Aplicación en Español
Application in English
---
Fairfield County's Community Foundation (FCCF) Scholarships
For additional details on these scholarships & more, see your guidance Counselor. Reach For Your Dreams. Applications Open Mid-January 2020.
Jumpstart your path to success. You're eligible if you're: A graduating senior from any high school in:
Bridgeport
Easton
Fairfield
Monroe
Milford
Shelton
Stratford
Trumbull
Westport
In good standing, with a minimum GPA of 2.7 (or higher in some cases)
Planning to be a full-time student at an accredited 2-4 year educational or vocational institution.
These and many more scholarships are available. Visit: fccfoundation.org/eligibility
---
CHESLA Scholarship
The next round of the CHESLA scholarship cycle is here! The CHESLA scholarship application for students pursuing a healthcare or manufacturing certificate opened on July 1st! The application is an open application available on a first come, first serve basis until funds run out. Any applicant that has an EFC below 6,000 and provides a letter of recommendation may receive a certificate program scholarship. Non-credit certificate programs qualify for this scholarship.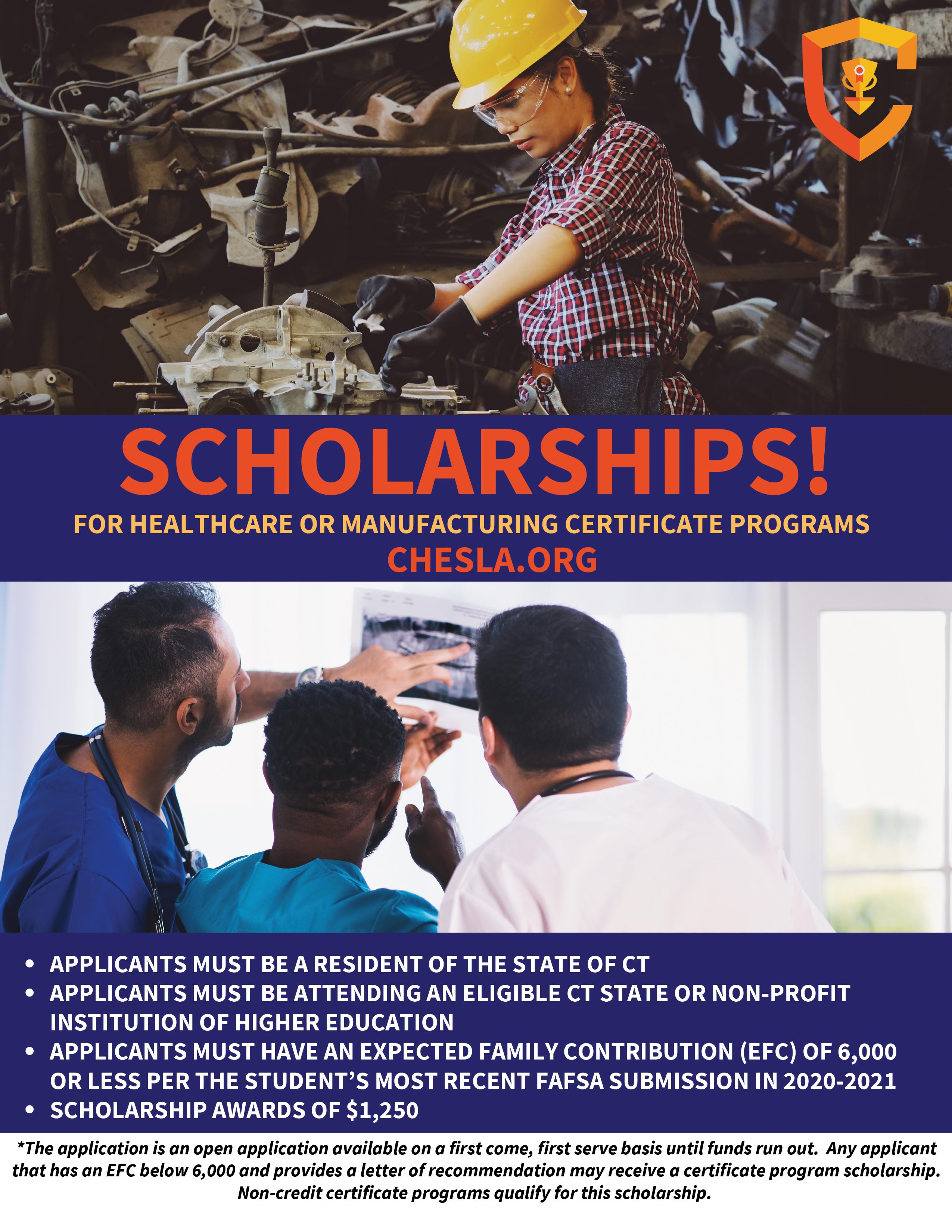 Download a flyer for more information.
Students can apply at CHESLA.org
---
The Network of Executive Women to Offer Undergraduate Scholarships
The Network of Executive Women of Milford has announced that scholarship applications will be accepted through October 20, 2020. Undergraduate scholarships are available to women residing in or attending school in New Haven or Fairfield Counties who demonstrate financial need. Applicants must be returning, continuing, or commencing schooling or other types of training to further their educational goals and/or enhance their job skills. Current high school seniors and 2020 high school graduates are NOT eligible. In fairness to all applicants, completed applications will be considered only if submitted by the deadline of October 20, 2020. For questions or applications, please contact Lauren Tropp at .
About The Network of Executive Women:
The Network of Executive Women, Inc. was founded in 1979 and provides a platform where business and executive women share ideas and accomplishments while supporting the goals of all members. The Network of Executive Women is dedicated to providing educational opportunities for women in need of financial assistance by awarding annual scholarships. These scholarships are funded through Network-sponsored events, member participation, and private donations.
---
Les Treize Scholarship
Must be a graduating senior from a high school in: Bridgeport, Fairfield, Monroe, Stratford or Trumbull.
Must plan to attend and be a full-time student at an accredited 2-year or 4-year college or university
Applicant must be African-American.
Walter Breslav, Jr. Scholarship
Available to applicants seeking a Bachelor's degree in business and/or finance.
Must plan to attend and be a full-time student at an accredited 4-year college or university.
Preference given to applicants that demonstrate a strong social conscience.
Click For More Information
---
CONNTAC Inc. Scholarships
CONNTAC, Inc. offers a scholarship to students every year. If students are eligible please refer them to the Educational Counselor nearest you to assist with the application process. Prospective recipients must be a documented participant of CONNTAC in order to for their scholarship application to be considered by the Board of Directors' Scholarship Committee.
Please refer to the following link for a CONNTAC office near you: http://www.conntacinc.org/service-area.
The CONNTAC, Inc. Scholarship Application is also available on our website: http://www.conntacinc.org/images/PDF/application.pdf
REQUIREMENTS: 1. Individual must NOT be a client of another TRIO program within Connecticut. This includes any Talent Search, Upward Bound, Student Support Services or Ronald McNair Post Baccalaureate programs. 2. Must be a documented CONNTAC – E.O.C client for FY 2019-2020 (September 2019 – August 2020). Contact the Central Office at (203) 634-7669 for further information. 3. Demonstrate that you are low-income and or have financial need. 4. Neither your mother nor your father has earned a Bachelor's degree. 5. Show you are attending or will be attending a postsecondary institution for the semester in which the award is given.
APPLICATION DUE DATE: DEADLINE HAS BEEN EXTENDED TO JUNE 15, 2020. No exceptions for late applicants.