Title IX Information
Title IX of the Education Amendments of 1972 is a federal law that protects all students attending or accessing services at an educational institution that receives federal funding. It allows all students to attend school in an environment free of harassment, gender based violence and discrimination. Violations of your rights under Title IX would be sexual assault, sexual harassment, sex discrimination or gender discrimination. Here at Housatonic Community College we take our responsibility to address and protect these rights very seriously. If you would like to report a Title IX violation or if you would like more information please do not hesitate to contact our Title IX Coordinator(s).
CSCU Title IX Coordinator:
Dr. John Paul Chaisson-Cardenas
VP of Diversity, Equity & Inclusion

860-612-7056/p>
Deputy Title IX Coordinator:
Robin Avant, Campus Dean of Students and Faculty
203.332.5061

LH A214
HCC Procedures
Sexual Misconduct Policy
The Connecticut State Colleges and Universities (CSCU) is committed to insuring that students at all of the colleges or universities have the opportunity to participate fully in the process of education and development. The CSCU strives to maintain a safe and welcoming environment free from acts of sexual misconduct and relationship violence. Each CSCU college or university strives to provide safety, privacy and support to victims of sexual misconduct and relationship violence.
The CSCU strongly encourages the reporting of sexual misconduct, including sexual harassment, sexual assault and intimate partner violence, as an effective means of taking action. By reporting these acts to the appropriate officials, the student can pursue criminal or disciplinary remedies, or both. The only way that action can be taken against anyone who violates another in such a manner is through reporting. Each and every CSCU governed college or university shall provide those who report sexual misconduct with many supportive options, including referral to agencies that provide medical attention, counseling, legal services, advocacy, referrals and general information regarding sexual assault. Each and every CSCU governed college or university will preserve the confidentiality of those who report sexual misconduct to the fullest extent possible and allowed by law. All CSCU employees, victim advocates or community victim advocates being consulted will make any limits of confidentiality clear before any disclosure of facts takes place.
Sexual intimacy is permissible only if it is agreed to by all participants and all activity is affirmatively consensual at all times. Sexual misconduct, including sexual harassment, sexual assault, sexual exploitation and intimate partner violence, against anyone is unacceptable and is both a crime under State law and a violation of our policies. Housatonic Community College is committed to providing an environment free of personal offenses. Consensual sexual relationships between staff, faculty and students are discouraged pursuant to CSCU policy.
Policy against Sexual Harassment
Sexual harassment is a form of sex discrimination and it is illegal under both state and federal law. Sexual harassment is also prohibited by the CSCU Non-Discrimination Policy. In accordance with the Board policy sexual harassment may be described as:
Any unwelcome sexual advance or request for sexual favors, or any conduct of a sexual nature when (1) submission to such conduct is made either explicitly or implicitly a term or condition of an individual's employment or education, (2) submission to or rejection of such conduct by an individual is used as a basis for employment or academic decisions affecting the individual, or (3) such conduct has the purpose or effect of substantially interfering with an individual's academic or work performance or creating an intimidating, hostile or offensive employment or educational environment.
For the complete description of conduct which may constitute sexual harassment see the CSCU Sexual Misconduct, Sexual Assault, and Intimate Partner Violence Policy and the Connecticut Board of Regents Student Code of Conduct.
If you find yourself in a situation and you suspect it may be a type of sexual harassment, you are urged to speak with the Title IX Coordinator, in the Dean of Students' office or the Director of Human Resources/Affirmative Action Office. These individuals will advise you of the options available to you and will respect your privacy.
Domestic Violence
Domestic Violence knows no gender, class, religion, education, or economic standing. Knowledge and understanding are important and effective tools that faculty, students and staff can call upon to help a victim stay safe. Resource material is available for viewing or loan in the Women's Center, room BH-371 in Beacon Hall. If you would like to report a violation of the Domestic violence policy please contact the Title IX coordinator, in the Dean of students' office or the Director of Human Resources/Affirmative Action Office.
CSCU Student Code of Conduct Sexual Misconduct Policies and Procedures
Please download the Procedures PDF here.
Continuing Notice of Non-Discrimination
Housatonic Community College does not discriminate on the basis of race, color, religious creed, age, sex, national origin, marital status, ancestry, present or past history of mental disorder, learning disability or physical disability, sexual orientation, gender identity and expression or genetic information in its programs and activities. In addition, the College does not discriminate in employment on the additional basis of veteran status or criminal record.
Housatonic Community College no discrimina con base en la raza, color, creencias religiosas, edad, sexo, origen nacional, estado civil, descendencia, historia de enfermedades mentales presentes o pasadas, discapacitación física o mental, orientación sexual, identidad y expresión de género o información genética en sus programas y actividades. Además, Housatonic Community College no discrimina en el empleo con base adicional en el estatus de veterano o antecedentes criminales.
All programs are open to students. These programs are described in the Degree and Certificate Programs section of the HCC College Catalog and Student Handbook. There are selective admission criteria for some programs. Refer to the course catalog for information about programs and those special admission requirements.
Click here for the latest policies of the Connecticut Board of Regents for Higher Education governing the Connecticut State Colleges & Universities..
The following person has been designated to handle inquiries regarding the non-discrimination policies: Director of Human Resources/Equal Employment Opportunity Officer/Title IX, Dean of Students Office, Room BH 278, phone (203) 332-5184; Housatonic Community College, 900 Lafayette Boulevard, Bridgeport, CT 06604.
Frequently Asked Questions
What is sexual misconduct?

Sexual misconduct includes a range of offenses, which may include engaging in one or more of these behaviors: sexual harassment, sexual assault, sexual exploitation, or other nonconsensual acts. Title IX provides protections against these offenses.

How do I know if I have been sexually harassed?

Sexual harassment can take many different forms. It can include unwelcome sexual advances or requests for sexual favors. In some cases, a person is made to feel that if they do not submit to the conduct their education or academic future would suffer. The harassment could be so severe that it interferes with the person's ability to excel academically. Some examples of conduct that may constitute sexual harassment include but are not limited to: sexual touching, advances or propositions; sexual jokes or comments; graphic or suggestive comments about a person's dress or appearance; verbal abuse of a sexual nature; or pressure to engage in sexual activity.

How do I know if I have been sexually assaulted?

Sexual assault includes but is not limited to a sexual act directed against another person when that person either cannot or does not give consent. Sexual assault is further defined in our policies and sections 53a-70, 53a-70a, 53a-70b, 53a-71, 53a-72a, 53a-72b and 53a-73a of the Connecticut General Statutes.

How is consent relevant to sexual assault?

Consent is the equal approval, given freely, willingly, and knowingly of each participant to desired sexual involvement. Consent is an affirmative, conscious decision – indicated clearly by words or actions – to engage in mutually accepted sexual contact. Consent cannot be assumed because there is no physical resistance or other negative response. A lack of consent may result from mental incapacity (e.g., ingestion of alcohol or drugs which significantly impair awareness or judgment) or physical incapacity (e.g., the person is unconscious or otherwise unable to communicate consent).

What should I do if I have been sexually assaulted?

It is hard to give a uniform answer to this answer to this question because everyone response to an assault differently. Know that you are not alone and there are resources to support you both on and off campus. Here are some options for you to consider. Your safety is important so get somewhere where you feel safe and if you are in immediate danger or seriously injured, call 911. If you are not feeling safe but don't require 911 consider reaching out to someone you trust. You do not have to go through this alone. Also remember that this is not your fault. What happened to you was not something you wanted and that is not okay. If you want to speak to someone to better understand your options consider calling the national hotline at 800.656.HOPE (4673). The person on the other end of the call will be a trained staff member from an agency in your area. They will be able to discuss options with you and be able to listen to you. They can provide you with information about receiving medical attention, reporting options, and preserving evidence.

Is it possible to be sexually harassed/assaulted by someone of the same gender?

Yes. If you have been subjected to unwanted sexual contact or sexual harassment, your gender and the gender of the alleged perpetrator are irrelevant. Title IX prohibits this type of conduct regardless of gender..

If an incident of sexual violence occurs off-campus, can the College investigate?

Yes, if the incident has sufficient ties to HCC (if it occurs at an HCC event, if it involves an HCC student, staff member, or faculty member, etc.) then the Title IX Coordinator can investigate.

What do I do if I need help, but want my situation to remain confidential?

The privacy of the parties is a priority for the Title IX office. However, limited information must be disclosed in order to fully investigate a complaint. Student complainants may make a request for confidentiality directly to the Title IX Coordinator, in accordance with the stipulations in the Student Sexual Misconduct, Relationship Violence, and Stalking Process. To access confidential services, you can reach out to local confidential service providers. Most of these agencies have websites with locations and contact information. Download Community Resources file here.

What if I want to remain anonymous?

Your privacy will be protected to the maximum extent possible, but total anonymity may hinder an investigation into your complaint. The Title IX Coordinator's office will do everything possible to protect the privacy of the parties involved throughout the investigation process.

If you are not interested in making a formal report you can still receive information about services, resources, and support from the Title IX office. You also have the option to make an anonymous disclosure by completing a disclosure form.

What do I do if I want to file a report with the college, the police, or both?

To report sexual misconduct at Housatonic Community College you can contact the title IX coordinator, the Dean of students' office, or public safety. You can then meet with the Title IX coordinator and they will do an investigation in the conduct and take steps to address the conduct and remedy future issues.

How can I help a friend who has experience sexual misconduct?

It is not easy to share or discuss an experience with sexual misconduct. Having an awareness about that difficulty can allow you to be more supportive and helpful to your friend. Consider the following ways of showing support:
Listen. Be there. Communicate without judgment.
If they need medical attention or plan to report, offer to be there. Your presence can offer the support they need.
Encourage the survivor to get support. Offer to help them find what they need, but realize that only they can make a decision about what is best for them.
Be patient. There is no timetable for recovering from trauma. Avoid putting pressure on them to engage in activities they aren't ready to do yet.
Download Secondary Survivors PDF here.

I'm concerned that reporting might make matters worse. Should I still file a complaint?

Housatonic Community College takes a strong stance against retaliation against someone who reports a Title IX violation in good faith. This policy is aggressively enforced if a complainant or a witness is retaliated against for participating in a Title IX investigation. Please inform the Title IX Coordinator if you feel threatened or feel that you are experiencing retaliation.

Who has the duty to report sexual misconduct?

If you are an HCC employee, you have a duty to report violations of sexual misconduct. This includes faculty, administrators, staff, and student employees who have supervisory, evaluative, grading, or advisory responsibility over other members of the community. Any employee who receives a complaint of sexual misconduct, learns of what may be potential sexual misconduct, or observes conduct that may constitute a violation of the policy is required to report the alleged conduct immediately to the Title IX Coordinator.

Someone has filed a complaint against me, what do I do?

Do not contact the complainant through any means – in person, by phone, by mail, through social media, through a third party, etc. Familiarize yourself with the HCC's internal Title IX grievance procedure for so that you know what to expect. Expect to hear from the Title IX Coordinator's office and prepare to meet with them.

What is a Title IX Coordinator?

The Title IX Coordinator is the HCC official(s) responsible for ensuring that Housatonic Community College complies with Title IX, including responding to and investigating all complaints of gender discrimination (including sexual harassment and sexual violence) at Housatonic Community College.
Annual Events
Clothesline Project
The Clothesline Project is a visual display of t-shirts that have been designed by survivors of violence or by someone who knows someone who has been victimized. The purpose of the Project is to increase awareness of the impact of interpersonal violence and break the silence around the issue. Survivors are given the opportunity to tell their story, make a t-shirt and hang it on the line, as well as make connections with other survivors. The line is a visual representation that they are not alone and it is a tribute to survivors. It shows the magnitude of the problem.
Silent Witness
During the Silent Witness Exhibit there will be silhouettes with facts, statistics, common myths and stories about domestic and sexual violence all around the Housatonic Community College Campus. Students will be encouraged to read the information and learn from the stories. Silent Witness is a multi-day event, taking place in both Housatonic Community College Buildings. There will be nine silhouettes in various locations around the campus.
Title IX Information Sign
8.5x11 signs were created and posted in every bathroom on the HCC campus. The signs had information about the Title IX statute as well as information about HCC policy and the identity, office location, and contact information for the title IX coordinator.
Empty Chair Campaign
The Empty Chair campaign is a week-long event held here at Housatonic Community College. The campaign raises awareness and seeks to prevent incidents of domestic violence, sexual assault, stalking, and other forms of interpersonal violence on campus.
During the event nine purple folding chairs will be assembled in different spots around the campus, each containing a sheet with several accounts of these forms of violence under the banner "I am not on campus today because…" as well as brochures in order to highlight the fact that this sort of violence impacts many facets of a person's life and can impede their participation in various activities.
No Witness
A play about acquaintance rape within a campus community. The play has a substantial amount of audience participation as the viewers can play roles and some of them are selected to be members of the jury. While the jury deliberates on the decision of guilt or innocence a facilitator leads a discussion with the remaining members of the audience. The play is co-sponsored by the Women's Center, The title IX coordinator, and the Theater Arts Department.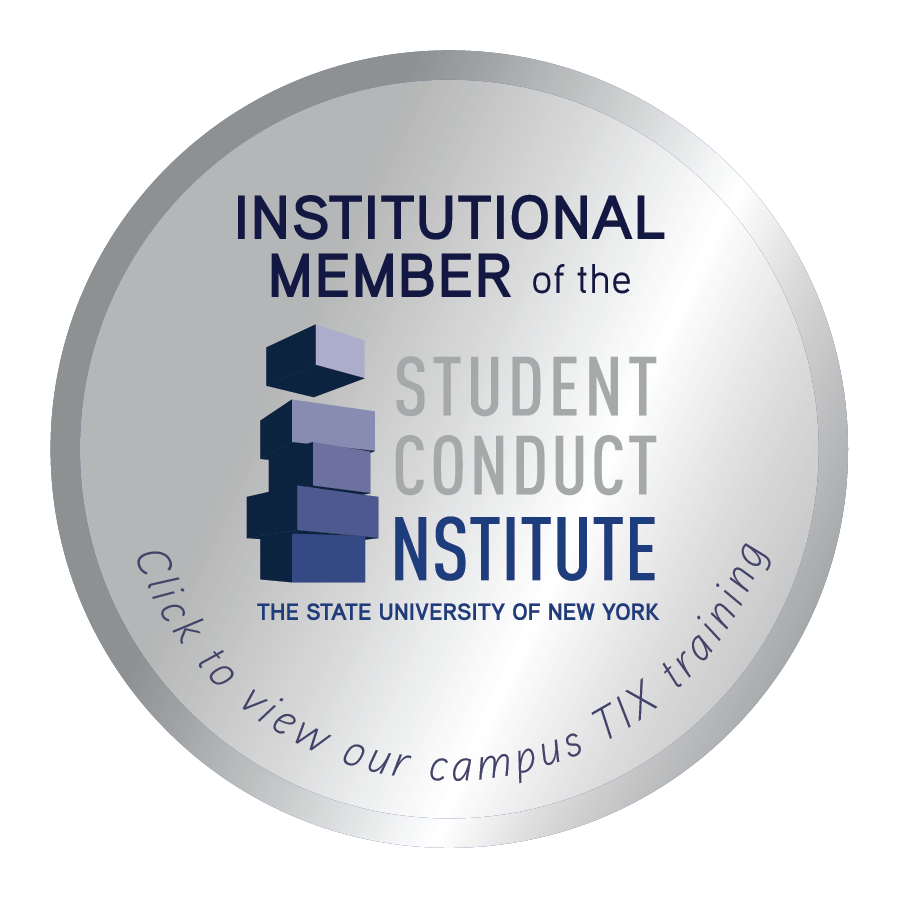 Click here for Posted Trainings