Welcome to the Surgical Technology Homepage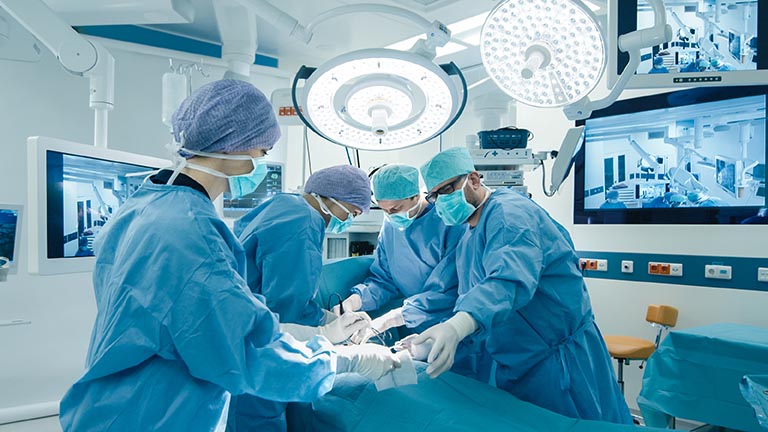 Surgical Technologists are integral members of the surgical team who work closely with surgeons, registered nurses, and anesthesia personnel. Surgical Technologists are also responsible for assembling and organizing all the specialized instruments and equipment needed for a wide variety of surgical procedures. They are experts in sterile technique, responsible for maintaining the sterile field during surgery.
About Us
Program of Study
Admission
Tuition and Fees
Contact Us
Program Mission:
The Surgical Technology Program prepares students to be competent entry-level Surgical Technologists in the cognitive, psychomotor, and affective learning domains. Graduates will qualify to become certified through the National Board of Surgical Technology and Surgical Assisting (NBSTSA) examination.
Student Learning Outcomes:
Apply principles of anatomy, physiology, pathophysiology, and microbiology to perioperative patient care..
Distinguish the elements, action, and use of medications and anesthetic agents used during the perioperative experience.
Demonstrate safe practice in the role of Surgical Technologist.
Display competence in technical skills and aseptic technique in the perioperative environment.
Practice responsible and accountable behavior within the role and competencies of the Surgical Technologist.
Organize the intraoperative environment efficiently as a member of the surgical team.
Apply learned knowledge and skills in the cognitive, psychomotor, and affective domains to become nationally certified as a Surgical Technologist.
Certification
Upon successful completion of the program, students will be eligible to take the National Board of Surgical Technology and Surgical Assisting (NBSTSA) certifying examination for Surgical Technologists. A passing score on this exam will grant the student status as a Certified Surgical Technologist, employable in all 50 states.
Approval and Accreditation
The Surgical Technology Program at Housatonic Community College (HCC) is licensed by the Connecticut Board of Regents and is probationary accredited by the Commission on Accreditation of Allied Health Education Programs (CAAHEP) upon the recommendation of the Accreditation Review Council on Education in Surgical Technology and Surgical Assisting (ARC/STSA).
Commission on Accreditation of Allied Health Education Programs
9355 - 113th St. N, #7709
Seminole, FL 33775
Phone: 727-210-2350
Fax: 727-210-2354
Email:
Accreditation Review Council on Education in Surgical Technology and Surgical Assisting
19751 East Mainstreet, Suite #339
Parker, CO 80138
Phone: (303) 694 – 9262
Email:
Outcome Assessment Results
CST Exam Participation Rate
Graduate Satisfaction Rate
Employer Satisfaction Rate 
Nondiscrimination Policy
The Community College System of the State of Connecticut will not discriminate against any person on the grounds of race, color, religious creed, sex, gender identity or expression, age, national origin, ancestry, present or past history of mental disability, genetic information, marital status, mental retardation, sexual orientation, learning disability, or physical disability, including, but not limited to, blindness, or prior conviction of a crime, unless the provisions of sections 46a-60(b), 46a-80(b), or 46a81(b) of the Connecticut General Statutes are controlling or there is a bona fide occupational qualification excluding persons in one of the above protected groups. With respect to the foregoing, discrimination on the basis of sex shall include sexual harassment as defined in section 46a-60(8) of the Connecticut General Statutes. Although it is recognized that there are bona fide occupational qualifications which provide for exception from employment prohibitions, it is understood these exceptions are to be applied pursuant to section 46a-68-33 of the administrative regulations.
Further, the System will not discriminate against any person on the grounds of political beliefs or veteran status.
The following individuals have been designated to handle inquiries regarding the non-discrimination policies at Housatonic Community College as the Title IX and Section 504/ADA Coordinator(s).
Dean Robin Avant, Counselor, Title IX Investigator, Gender Equity Coordinator
Housatonic Community College
203-332-8521

The mission of the Gender Equity Center is to coordinate on-campus sexual violence prevention programming, and to provide students with resources and referrals in response to sexual violence, including sexual assault, sexual harassment, stalking, and intimate partner violence.
Confidential Consultation
Confidential Crisis Response
Prevention Programming
Marilyn Wehr, Section 504/ADA Coordinator
Housatonic Community College
203-332-5018

The Americans with Disabilities Act (ADA) prohibits discrimination against qualified individuals with disabilities on the basis of their disability. The ADA provides, in part, that "no qualified individual with a disability shall, by reason of such disability, be excluded from participation in or be denied the benefits of the services, programs, or activities of a public entity, or be subjected to discrimination by any such entity."
Robin L. Avant, Dean of Academic Affairs and Interim Dean of Students, Title IX Coordinator for Students
Housatonic Community College
203-332-5061

Housatonic Community College work to ensure compliance with Title IX, which is a federal law that prohibits discrimination based on the sex (gender) of employees and students of educational institutions that receive federal financial assistance.
Program of Study
The program of study reflects a full-time curriculum plan. Students enrolled in the Surgical Technology Program are required to complete all courses in the program of study to graduate. A grade of C+ is required for the science general education requirement and core courses in the Surgical Technology program of study, and a grade of C is required for all other general education requirement courses in the program of study. General education courses must be satisfactorily completed before or during the semester in which they are scheduled in the curriculum. Students who fail to complete required general education courses in the published sequence, or do not achieve the grade requirement, may be dismissed from the program.
---
Loading...
Admission Requirements
Submit all required documents to the admission department
Attend an information session
Successfully complete fall first term courses (Table 1) with the minimum grade requirement by the end of fall 2023
Table 1 – Fall First Term Courses
CT State Community College Course
Required Grade
ENG*101: English Composition
C or greater
MAT*104: Quantitative Literacy or higher
C or greater
MED*125: Medical Terminology
C or greater
CSA*105: Intro to Computer Applications
C or greater
BIO*115: Human Biology for Allied Health
BIO*211 and BIO*212 can be substituted for BIO*115
C+ or greater
C+ or greater in both BIO*211 and BIO*212
Contact the Financial Aid Department at https://housatonic.edu/financialaid
Surgical Technology Program Application
Application opens June 1, 2023, Application closes October 1, 2023,.
Selective Admission Information For Fall 2023 & Beyond
CT State Admissions Application For Fall 2023 & Beyond
---
Once your online application has been submitted, you will receive a confirmation email. Please note, all emails will be sent to your new community college email address. You can look up your new email address in myCommNet or using the NetID Lookup Utility at http://www.ct.edu/netid. Please be sure to have an updated mailing address and phone number in Self Service.
---
Application will be available from May 31 to July 31, 2022.
---
Download Surgical Technology Information Packet
Tuition and Fees
Connecticut residence program tuition - $9,400
Out-of-state residence program tuition - $28,200
All students enrolled in the HCC Surgical Technology program are required to pay the Clinical Program Level 2 fee of $487.00. Please see the link for additional college fees: Tuition and Fees
Additional program expenses include but not limited to the cost of:
Books and supplies
Basic Life Support (BLS) certification
Toxicology screen
Criminal background check
Uniform
rTansportation and parking at assigned clinical locations Health requirement
Health and case requirement tracking software

Payment and Refund
Contact Us
Housatonic Community College
900 Lafayette Blvd. Bridgeport, CT 06604
203-332-5000
http://www.housatonic.edu
Admissions Department Office: LH L111
Phone: 203-332-5100
Advising and Student Success Center
Office: LH L112
Phone: 203-332-5263
Sherifa Douglas
Program Coordinator
Office: LH 250
Phone: 203-332-5993
Email:
Shanelle Deveaux
Assistant Professor of Surgical Technology
Office: LH B262
Phone: 203-332-5283
Email:
Joan McDonald
Assistant Professor of Surgical Technology
Office: LLH-B248
Phone: 203-332-8593
Email: