Welcome to our Virtual STEAMfest 2020!
Beginning on Sunday, November 8th, Housatonic Community College (HCC) will present an exciting, online program to celebrate advances in the fields of Science, Technology, Engineering, Art and Mathematics. The 4th annual 'STEAMfest' event is going virtual this year, with something exciting planned for every day of the week – look for the Key Word of the Day to enter our daily Givaway!
---
Register each day for a chance to receive a $50 voucher to the HCC Bookstore.
Two vouchers will be given away each day of STEAMfest. Go to the STEAMfest site, watch some of the videos, and register. Don't forget to add the "word of the day"! Winners are limited to a single voucher. Everyone who registers with the correct word of the day will be included in the day's drawing. Open to Hosuatonic Community College students only.
---
---
STEAMfest Videos
Listen to HCC student Karen G's inspiring story of moving from Guatemala, learning English and her path to success as an HCC student. She credits her progress to hard work and regular support from staff at HCC's STEAM Center of Excellence.
Hear HCC Alumna Kristen S. share her experiences in HCC's Computer Information Systems Program and how her degrees from HCC and Wesleyan University prepared her to research patterns in molecules using Computational Biology. View a 3-D image of the discovery that her team made, which was published in the journal Biomolecules.
Alberto L. is a former HCC Engineering student and Tutor currently studying Electrical Engineering at the University of Bridgeport. Hear him talk about his undergrad US Dept. of Energy research experiences. His goal is to work in R & D, designing efficient and green energy systems. He feels that going to HCC prepared him well to pursue a STEAM career.
Dream Jobs presented by Professor Janet Yarrow, Registered Dietitian/Nutritionist, Pre-nutrition LAS Degree Program Coordinator and Instructor of Introduction to Nutrition and Anatomy & Physiology at HCC.
Nick J. is a former HCC Engineering student who also worked at HCC as a Supplemental Instruction (SI) Leader and Tutor. He completed his AS in Engineering Science in Fall 2019 and is currently at Rensselaer Polytechnic Institute majoring in Mechanical Engineering.
Krissie M. was a Math student at HCC for two years and she just recently transferred to Mount Holyoke College where she will be finishing her degree in Mathematics with a teacher's licensure. Krissie believes she would not have made it up to this point without the preparation and support that she received from Housatonic, especially from those in the Math department.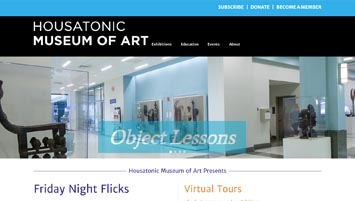 On Friday: enjoy the intersection of art and technology with a series of fascinating stop-motion films. The films will go on view at 7pm, visit museum.housatonic.edu/film for the film link.
Lost & Found is a stop motion short film that tugs at the heartstrings. A clumsy crochet dinosaur must unravel itself to save the love of its life.
Click Here For Film
Two Balloons: Two adventurous lemurs navigate their dirigibles halfway around the world to a place where happenstance and fate threaten to disrupt their reunion.
Click Here For Film
---
STEAMfest Sponsors
Thank you to Sikorsky- a Lockheed Martin Company and Pitney Bowes for their long-term support of HCC students and being champions of STEAM at Housatonic Community College