Welcome to the Men's Center @ HCC
Housatonic Community College's Center For Male Success is conveniently located on the third floor of Beacon Hall, room 325.
The Men's Center, a pilot project reestablished in Spring 2019 by the Allison Foundation Inc that intends to increase, encourage, and support the inclusion and educational success for males of color. Our aim is to create an ongoing learning community and leverage all available resources that support students' navigation through the complex currents of college life. The center is comprised of dedicated individuals who advocate for an improved educational experience and quality of life for the men of Housatonic Community college. All Male Success projects are in alignment with the Housatonic Mission, and Values.
---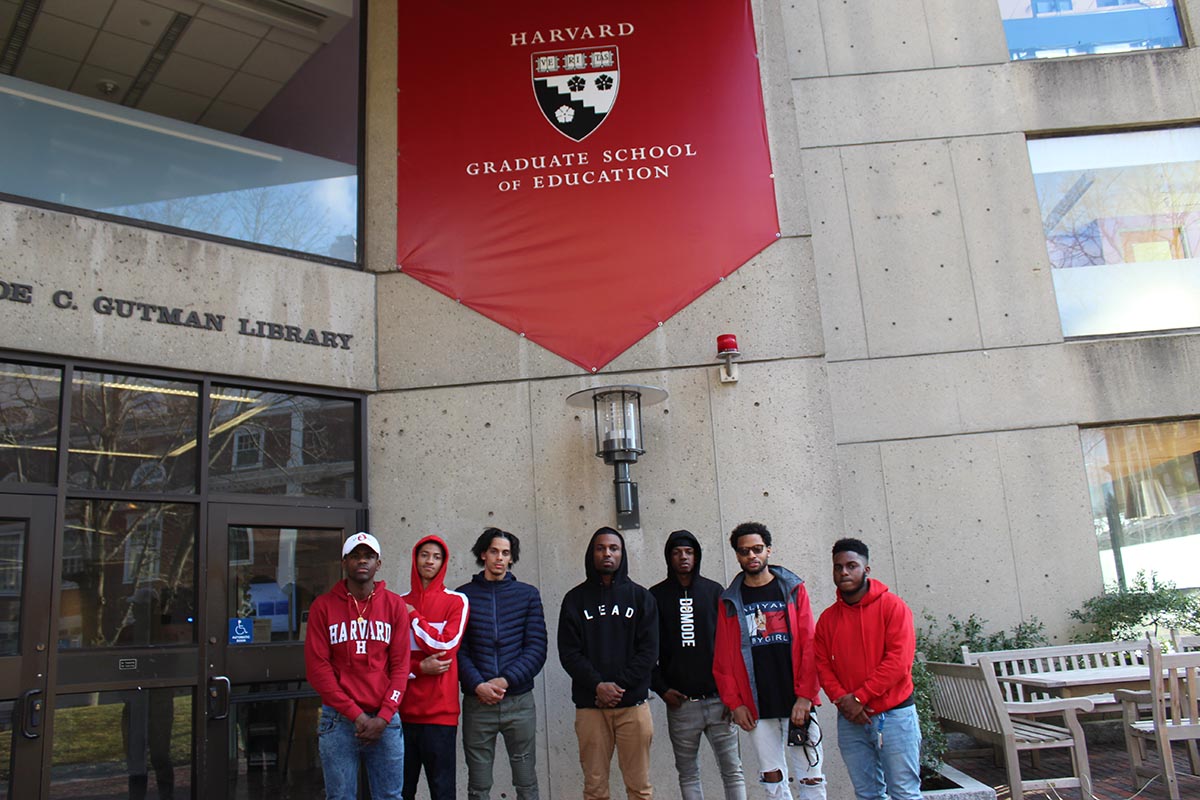 Caption For Photo Above: On this day, young men from Housatonic Community College experience the 3rd Annual "Can't Stop Hip Hop" Education Conference at Harvard University in Cambridge, MA. Based on the four principles of Hip Hop- Peace, Love, Unity, and fun- students had the chance to envision the future possibilities in education, with Hip Hop leading the way.
---
Mission Statement
Housatonic Community College, through a collaborative, learner-centered, technology-rich and stimulating educational environment, empowers all individuals to develop to their full potential as lifelong learners. As a knowledgeable and dedicated faculty and staff, we inspire students to contribute responsibly to our dynamic regional and global society.
Vision Statement
By 2021, Housatonic Community College, empowered by resources and public support, will be a regional leader in higher education, workforce development, and community engagement with cutting-edge programs in science, technology, engineering, arts, mathematics and other disciplines that address the ever-changing needs of students, employers, and society.
Values
Educational Excellence
Providing innovative programs that satisfy a variety of individual, regional, and global societal needs
Emphasizing critical thinking, empowering students to become independent learners, creative problem solvers, and engaged citizens
Sparking intellectual curiosity and promoting lifelong learning through a rich cultural and academic environment
Ensuring personal, academic, and organizational integrity and honesty in all endeavors
Promoting the educational belief that learning is the basis for personal growth and enrichment and that personal maturity is defined by responsibility, accountability, and transparency
Diversity and Inclusion
Embracing cultural and intellectual differences
Fostering interpersonal engagements that are respectful of individuals, uniqueness, and culture
Cultivating an environment that encourages diverse populations to contribute to and participate in the educational process
Services and Resources
Making available to students resources and support from entry to completion of goals
Maintaining a safe and secure campus
Personal Connection and Community Engagement
Providing opportunities for students to experience a positive connection at Housatonic that lasts a lifetime
Building strong connections that contribute to, and support, community engagement
---
| | | | |
| --- | --- | --- | --- |
| Name | Title | Phone | Email |
| Mr. Terry Walden | Men's Center Advisor | 203-332-5176 | |
| Professor Eddie Rose | Men's Center Advisor | 203-332-5117 | |
| Professor Saulo Colon | Men's Center Advisor | 203-332-5113 | |
| Alexandros Valiantis | Men's Center Coordinator | 203-332-5178 | |
Men's Center