HCC HONORS NATIONAL HISPANIC HERITAGE MONTH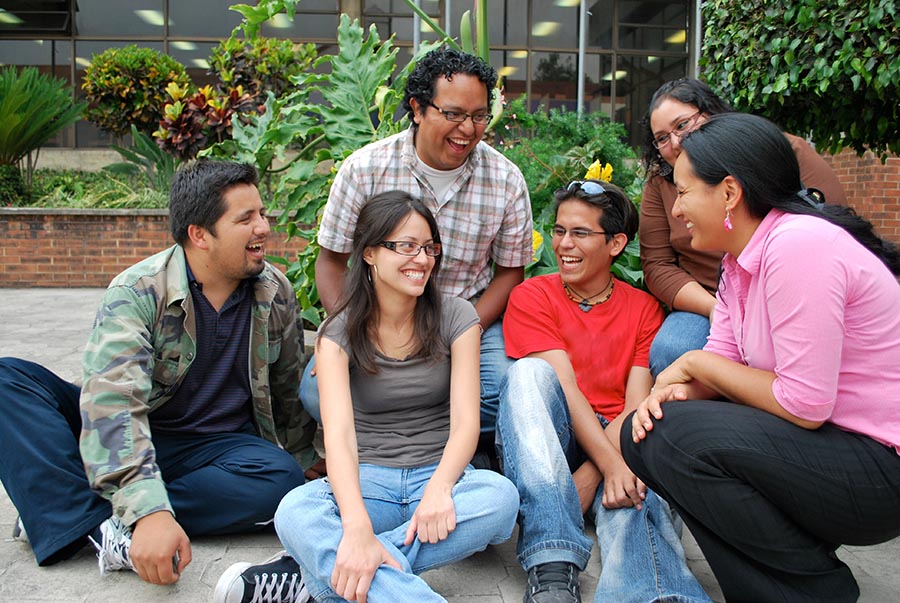 Hispanic people are those who come from a Spanish speaking country or have ancestors that come from a Spanish speaking country.
Spanish speaking countries include: Argentina, Bolivia, Chile, Colombia, Costa Rica, Cuba, Dominican Republic, Ecuador, El Salvador, Guatemala, Honduras, Mexico, Nicaragua, Panama, Paraguay, Peru, Puerto Rico, Spain, Uruguay, and Venezuela.
There are over 60 million Hispanics living in the USA.
If there is a common thread in Hispanic cooking, it is the use of a variety of seasonings.
Seasonings, including an assortment of herbs and spices, play a key role in Hispanic cooking and the main reason why Hispanic recipes are brimming with flavor.
Here are some popular seasoning combinations used in Hispanic recipes.
Adobo is a mixture of garlic, oregano, black pepper and turmeric.
Sazon is a mixture of salt, paprika, turmeric, cumin, oregano, black pepper.
Safrito is a mixture of tomatoes, green pepper, onions, cilantro, olive oil
Garlic is found in almost all dishes, sometimes in many different forms in a recipe.
Herbs and spices not only provide flavor, but also provide a variety of health benefits due to their phytochemical content. The judicious use of seasonings in Hispanic cooking increases the overall healthiness of the meals.
---
Recipes
Ceviche
The Origin of Ceviche
Ceviche is the best known Peruvian dish. This popular seafood dish claims origins in Lima, Peru but is found in many coastal areas throughout Latin America such as Ecuador, Chile, Mexico, and Colombia. Ceviche is also known as cebiche and sometimes spelt seviche. In it's simplest form Ceviche consists of raw fish and fresh lime juice with some chilli, or hot peppers.
Prep Time: 15-20 Minutes
Cook Time: 2-3 Minutes
Ingredients
1 pound peeled and deveined raw medium shrimp
1/4 cup freshly squeezed lemon juice (from 2 lemons)
1/4 cup freshly squeezed lime juice (from 2 to 3 limes)
2 medium tomatoes, seeded and chopped
1/2 small red onion, finely chopped
medium jalapeño, seeded and finely
chopped (about 3 tablespoons)
1/2 cup chopped fresh cilantro leaves and tender stems
1/2 teaspoon kosher salt
1 medium avocado
Tortilla chips, for serving (optional)
Directions
Bring a large pot of salted water to a boil over high heat. Turn off the heat, add the shrimp, and poach until the shrimp are opaque and just cooked through, 2 to 3 minutes. Drain the shrimp and set aside until cool enough to handle, about 10 minutes.
Chop the shrimp into 1/2-inch pieces and place in a large bowl. Add the lemon juice, lime juice, tomatoes, red onion, jalapeño, cilantro, and salt, and toss to combine. Cover and refrigerate for at least 1 hour or up to 4 hours. Just before serving, dice the avocado, add to the ceviche, and gently toss to combine. Serve with tortilla chips, if desired.
Recipe Notes Storage: Leftovers can be stored in an airtight container in the refrigerator for up to 1 day.e for serving.
Reference: https://www.eatperu.com/what-isceviche
Empanada
The Origin of Empanada
The empanadas we enjoy today are thought to have originated in Galicia, Spain. The idea of wrapping a hardy filling in pastry dough may well have stemmed from the Moors who occupied Spain for hundreds of years. A cookbook published in Catalan, Spain in 1520 includes empanadas made with seafood. The first empanadas in Western Hemisphere are credited to Argentina. The U.S. has even given the empanada a dedicated holiday — National Empanada Day, celebrated on April 8.
Reference: Thespruceeats.com
Ingredients
cooking spray
1 tablespoon butter
1 cup chopped green onions
2 cloves garlic, chopped
1½ cups chopped cooked chicken
1 teaspoon salt
½ teaspoon nutmeg
½ teaspoon ground black pepper
12 eaches empanada pastry discs
1 egg, lightly beaten
Preheat oven to 400 degrees F (200 degrees C). Grease 2 baking sheets with cooking spray.Melt butter in a saucepan over medium heat. Add chopped green onions and cook until tender, about 4 minutes. Add garlic and cook for 1 minute more. Mix in cooked chicken, salt, nutmeg, and black pepper; cook 1 minute more.Arrange pastry discs on a flat work surface. Dab a little water around the rims. Place a large tablespoonful of the chicken mixture in the center; fold pastry over and press with a fork to seal.Transfer empanadas to the prepared baking sheets. Brush with beaten egg.Bake in the preheate
Reference: Allrecipes.com
Creole Hen Soup
Recipe donated by Veronica Lopez
Introduction to Nutrition Online
Fall 2020
My family and I are from Ecuador. My mom usually makes this delicious soup when most of the family gets together. Sometimes, when I visited my mom, she used to cook this recipe because she knows that I love her hen soup. My mom arrives tomorrow from Ecuador to visit me. I am very happy! Or course I will ask her to make this delicious soup.
My mom's name is Zoila Galarza, and I will be happy if you share my mom's recipe with the HCC community.
Creole Hen Soup
Ingredients (3-4 plates)

4 or 4 hen pieces (your favorites)
1 Garlic crushed
Little chopped onion
Salt to taste
Coriander
Green onion
1/2 cup of rice
1 cup of peas
1 cup of chopped carrot
Preparation
First, boil water in a pot medium size approximately, after that put the hen pieces, rice, pea, and the chopped carrot in the pot. Then, let it simmer. 2 or 3 minutes later, this produces a foam. Scoop this out with a spoon. Second, add the crushed garlic. Third, cook it for 20 or 25 minutes approximately. Finally, five minutes before turning off add salt to taste.
Notes:

In a small bowl, chop the coriander and green onion into small pieces and add a little to the plate when serving
If you like you can add a little of oregano at the same as garlic
It can be accompanying with yucca or corn cooked (in my country it is called mote)
Jibaritos
Recipe donated by G. Hernandez
Introduction to Nutrition Online
Fall 2020
Jibaritos
Ingredients

2 Plantains
4 pcs. Cubed Steak
1 can Tomato Sauce
3 TBS Sofrito
2 pks Sazon
Adobo to taste
Garlic Powder to taste
Pureed Garlic
2 cups of water
Lettuce
Tomato
Mayonnaise
Ketchup
Season the steak with the adobo and garlic powder to taste. Let sit for 2 hours.
In a soup pot add the water tomato sauce, sofrito, adobo, sazon, garlic powder, and pureed garlic. Let it come to a boil then add the meat. Let the meat cook for 1 hour or until tender.
In the meantime peel the plantain cut in half and take those two halves and cut them in half. Fry them on both sides for about 3 minutes on each side. Take them out and flatten them, and put them to fry again for another 3 minutes on each side.
Take the mayonnaise and ketchup and put 2-3 spoons of each in a cup season with adobo and pureed garlic to taste. Mix it up.
Once meat is done take one piece of plantain, put a piece of steak on it, then the mayo, ketchup, lettuce, tomato, and top with another plantain.
Enjoy!!!!
Pastelon
Recipe donated by Waleska Williams
Introduction to Nutrition Online
Fall 2020
This is a Puerto Rican dish, known as a Spanish lasagna. My mom cooks this dish for every holiday. It is delicious and reminds me of my childhood when I come home from school to see her preparing the pie. I would like to dedicate this dish to my late grandmother Anna H. Ramirez Candelaria the queen of the Candelaria household that consist of 12 children.
Pastelon
Ingredients

4 ripe plantains, about 3 to 3 1/4 pounds
1-pound ground beef (preferably ground round) or ground turkey
1 teaspoon Adobo seasoning blend (to season the meat)
1 1/2 teaspoons sazón flavoring blend (to season the meat)
1 green bell pepper or 1 red pepper minced (about 1 cup for the meat)
1 cup tomato sauce (preferable salsa)
2 bags of 16oz shredded cheese
2 large eggs
Directions

Cut the plantain half in the middle.
Fry the sweet plantains. season the meat, mix the peppers while cooking then add salsa (tomato sauce)once meat is cook but still hot.
Then lay out the sliced plantain and layer it with the meat then another layer of plantain as a sandwich form. Continue as desired.
The top layer should be plantain, pour the whisked eggs over the top layer. Then layer the top with the shredded cheese and place the pie in the oven for 350 degrees for about 25 mins.
Pernil
Recipe donated by Emily Pastore
Introduction to Nutrition Online
Fall 2020
This recipe is a recipe my father and I learned to make for one of our very close family friends, who has become like a second brother to me. He is Puerto Rican and we are Italian, so it has become a yearly tradition for us to make his favorite Hispanic dish on his birthday and for him to make our favorite Italian dish on my father's birthday. I dedicate this dish to him for all the love and laughter he brings to our family.
Pernil
Ingredients

8-10 pound bone in pork shoulder
1/4 cup Olive Oil
1/8 cup lemon juice
Tbsp salt
Tbsp pepper
Tbsp Oregano
3 Tbsp Adobo
6 minced garlic cloves
Two packets Sazon
Tbsp lemon juice
Directions
In a bowl, mix together the olive oil, garlic, Adobo, lemon juice, Sazon, oregano, and black pepper. Set aside.
Using a small, sharp knife, make a cut on the side of the roast where the skin meets the flesh. Continue cutting, separating the skin from the flesh, leaving one end of the skin attached. Using the knife, make 1/2 inch deep incisions in the flesh, under the skin. Place pork on a tray.
Using your hands, rub spice mixture over flesh, pushing some of the mixture into the cuts.
Place skin on top of meat; wipe the skin clean.
Rub skin with salt. Cover tray with plastic wrap; transfer to refrigerator to marinate at least 4 hours, or overnight.
Heat oven to 350 degrees F. Transfer pork, skin side-up, to roasting pan; bring to room temperature, about an 1, before putting in the oven.
Pat skin dry. Cover pan tightly with aluminum foil.
Cook pork until meat is fork-tender and internal temperature registers 145 degrees F (about 3- 3 1/2 hours. Discard foil.
Increase oven to 450 degrees F. Cook pork, uncovered, adding water in 1/4 cup measures if pan becomes dry, until skin is brown and crisp (about 20-35 minutes), checking pan every 10 minutes to keep it moist.
Transfer pork to cutting board and let rest for 20 minutes.
Remove skin and cut into pieces.
Separate meat and crunchy skin pieces and serve.
Enchiladas
Recipe donated by Paul Aronson
Introduction to Nutrition Online
Fall 2020
Enchiladas
Ingredients

1 pound ground beef
Corn tortillas (around 10)

Sauce ingredients:
¼ cup vegetable oil
2 tablespoons self-rising flour
¼  cup of chili powder
(8 ounce) can tomato sauce
1 ½ cups water
¼ teaspoon ground cumin
¼ teaspoon garlic powder
¼ teaspoon onion salt
Directions
In a 10-inch nonstick skillet, cook 1 pound of ground beef season with salt and pepper over medium-high heat 5 to 7 minutes, stirring occasionally, until thoroughly cooked. Drain and set aside. Now you will make enchilada sauce.
Enchilada sauce recipe:
Heat oil in a skillet over medium-high heat. Stir in flour and chili powder, reduce heat to medium, and cook until lightly brown, stirring constantly to prevent burning the flour. Gradually stir in tomato sauce, water, cumin, garlic powder, and onion salt into the flour and chili powder until smooth, and continue cooking over medium heat approximately 10 minutes, or until thickened slightly. Season to taste with salt. 
Now, stir in 1/4 cup sauce into the cooked ground beef. Next you will start with a corn tortilla. you will dip the tortilla in the enchilada sauce, cover both sides with sauce. Next you will place the tortilla on a plate, scoop 1 spoon of ground beef, and sprinkle shredded cheese of your choice.
Wrap tortillas tightly around the filling, placing them seam side down in baking dish. Top with remaining enchilada sauce. Sprinkle with remaining cheese. This should make around 10 enchiladas  Bake 20 to 25 minutes or until hot and bubbly. Let stand 5 minutes before serving.