Student Email & Office 365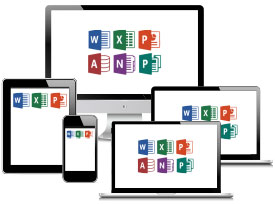 The Connecticut Community Colleges (CCC) are pleased to announce a partnership with Microsoft to offer Office 365, a suite of online services, to all CCC students.
This provides CCC students with the latest version of the full Office productivity suite, including Word, Excel, PowerPoint, OneNote, and more available for offline and online use. From home to school, from desktop to web and the devices in between, Office delivers the tools to get work done. Office 365 is a subscription-based service to use Microsoft's popular Office tools including Word, Excel, Outlook, OneDrive and Skype.
---
Students: your College-issued email address is now the official electronic communication method between the College and you. It is critical that you frequently log in to check your inbox for official correspondence from the College, and learn to use Office 365 to respond.
---
What's My Email Address?
You can find your email address in two places:

Log in to Office 365, click Find Someone, then search on your last name.
Log in to my.commnet.edu, click the Student Tab, then look in the panel titled Student Email Channel.
Office 365 Mobile
The Mobile Phone Setup Wizard on the Office 365 website will help you set up your device.
Setting Up Forwarding
You many wish to forward email from Office 365 to your personal email for convenience. Check out the video below on how to forward email.
---
For other helpful videos about accessing your college email, please click here.
---
Click here for the Support Center and Web support sites to assist students in using Office 365.
---
Student Email Accounts
All Connecticut Community College students will receive an official email address () to which all college-based communications will be sent. Students are provided with a Microsoft Office 365 account that includes:
25GB message storage capacity for each user
Access to calendar entries and contacts, as well as e-mail from mobile devices
Full-service web interface for accessing e-mail as well as compatibility with the industry-standard desktop e-mail program Microsoft Outlook
The ability to search e-mail for details and save favorite searches for reuse. Share calendars with other Office 365 users and view multiple calendars side by side.
Built-in anti-spam message filtering