Eversource Lineworker Certificate Program (Spring 2024)
Are you interested in becoming a Lineworker with Eversource?
The utility industry is experiencing tremendous growth in meeting and serving the energy demands of homeowners, businesses, and municipalities across CT. There is a high demand for skilled resources to construct, maintain and service the electric infrastructure. Eversource Energy is partnering with Housatonic Community College and IBEW Locals 420 and 457 to deliver a Lineworker Certificate Program, which has been specifically designed to help develop the future workforce needed in this exciting field.
Students will develop the fundamental skills required to effectively install and maintain the Electric Distribution system, including the safe and effective use of common tools and equipment. Students will also build a strong working knowledge of accepted industry practices.
Upon completion of the program, graduates will be ready for entry-level employment as Line Helper Apprentices.
Eversource Lineworker Certificate Program Virtual Information Sessions:
January 12th, 17th & 19th from 5:00pm to 6:00pm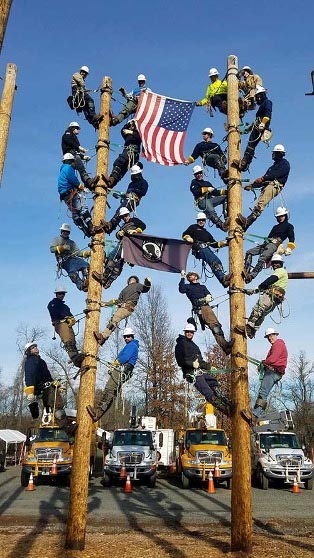 Program Structure:
The program is 13 weeks, beginning on March 7, 2023 and concluding on June 1, 2023.
Courses will be offered virtually in partnership with Housatonic Community College on Tuesday and Thursday evenings from 5:30 pm - 8:30 pm and Saturdays, 8:00 am - 2:30 pm.
To successfully complete the program and earn the certificate, students must attend the virtual evening classes online and skill training sessions in person on Saturdays at the Eversource Training Center (Berlin, CT).
Certificate(s) Earned & Training Completed:
Lineworker Certificate
AHA Heartsaver® First Aid CPR AED Training
OSHA10 Training
CDL permit test preparation
Tuition: $2,999.00
Admissions Process:
Eversource's Lineworker Certificate Program is a selective admissions program with 15 spots open. We encourage you to apply as soon as possible, as it will be a rolling acceptance.
Application Deadline: Sunday, January 22, 2023
We appreciate your interest in the program.  The application is closed at this time.

High School Transcript/GED transcript (a college transcript can be used in lieu of the diploma) emailed with Application to HCC email address at:

. 
Copy of current Driver's license emailed to

. Students will be expected to get a CDL license if hired into a Line Helper position with Eversource-https://portal.ct.gov/DMV/Licenses/Licenses/Commercial-Drivers/CDL—Main-Menu
Ability to work at heights in nearly all-weather conditions. Must pass testing required for the program.
Students must have a computer/laptop and access to the Internet as all theory classes will be held virtually.
Ability to drive on specific Saturdays to Eversource Training Center located in Berlin, CT.
Your application will be reviewed, and you will be notified of next steps.
Upon application acceptance by Housatonic Community College, you will be contacted by Eversource and scheduled for an evaluation at the Eversource training facility. You will be evaluated on your ability to climb heights safely. You will have s virtual interview and a Construction and Skilled Trade (CAST) test.
Practice test are strongly recommended. To access the practice test, go to EEI's website, https://secure.eei.org/eeitests/onlineproducts/. Enter "eversource" as the name and "test" for the password.
Receive a conditional acceptance into the program, pending a background check and drug screen.
Specifications
Time of day: Evenings
Days: Tuesday, Thursday, Saturday
Hours: TUES. & THURS. 5:30pm - 8:30pm (LRON virtually); SAT. 8:00am - 2:30pm (Berlin, CT)
Tuition: $2,999