Registration is Easy!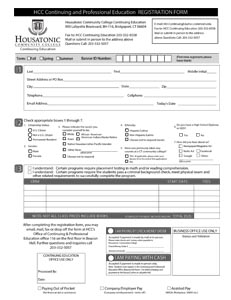 Download the Registration Form here
Simply print out the Registration Form and mail, fax, phone, or deliver in-person along with your payment as shown below.
Since many seminars and workshops fill early, we urge you to register no later than a week prior to start of a course, but will attempt to accommodate you on a case-by-case basis.
Phone Registration
Call us with credit card information to complete registration or stop in to Register in Room 116 Beacon Hall. Please call during office hours 203.332.5057.
Mail Registration
Mail Your Registration Form along with check or credit card information to:
Housatonic Community College
Continuing Education
900 Lafayette Blvd.
Bridgeport, CT 06604-4704
Fax Registration
Fax Your Registration Form along with credit card information to:
203.332.8558
Drop Off Registration
Drop off your registration to Continuing Education (Beacon Hall 116) or Registrar (Lafayette Hall, L113).
Beacon Hall Room 116 (First Floor)
---
Tuition Payment for Non-credit Programs/Courses
Full payment is required at time of registration prior to the start of non-credit program/course. Students referred by WIOA, Workplace, or the SNAP program, must provide required tuition payment approval documents at time of registration.
Withdrawal Policy
Students must contact the Continuing & Professional Education Office (via email, fax or mail) to submit a written request for withdrawal prior to the first day of class. Program(s)/course(s) that a student withdraws from will be removed from the student's schedule and will not appear on his/her transcript.
Refund Policy for Non-Credit Programs/Courses
A student who withdraws by the end of business day prior to the first day of class, is entitled to a full refund. In cases relating to medical reasons or other extenuating circumstances supported with proper documentation, refund will be made at the discretion of the administration.
If the college cancels a course or program, the student will automatically be granted 100 percent tuition refund.
Responsibilities of Student Receiving Tuition Assistance
After payments have been received and processed from WIOA, Workplace, and/or SNAP, etc., any remaining balance on the student account is the responsibility of the student.
Statement of Non-discrimination
Housatonic Community College does not discriminate on the basis of race, color, religious creed, age, sex, national origin, marital status, ancestry, present or past history of mental disorder, learning disability or physical disability, sexual orientation, gender identity and expression or genetic information in its programs and activities. In addition, the College does not discriminate in employment on the additional basis of veteran status or criminal record.
---
Hours
Continuing Education Hours
Monday – Friday: 10:00am-5:00pm
Closed Weekends and All State Holidays
Questions?
Please call during office hours 203.332.5057.