HCC Strategic Plan
Planning Methodology
The process to create the HCC 2013-2016 strategic plan was initiated by HCC President Anita Gliniecki in the summer of 2012. Planning followed the NEASC self-assessment and accreditation process which involved the college community in a thorough self-analysis of the College's strengths and opportunities. The planning committee first reviewed a variety of sources to identify the many potential strategic priorities that would be considered for the plan. These resources included:
The prior HCC Strategic Plan (Revised 2011)
HCC NEASC Self-Study, including Projections
HCC NEASC preliminary and final reports
Board of Regents (BOR) mission, draft BOR Strategic Plan
Preliminary guidance from the President and Administrative Team
Strategic plans from other community colleges within and outside Connecticut
In August 2012, the President hosted the President's Forum to help narrow the number of strategic priorities the plan, and the College, should address. The public forum drew participation from numerous college constituencies, including community organizations, state legislative representation, governmental and non-governmental agencies, other colleges, and the HCC community.
Following the Forum, the Strategic Planning Committee visited with additional constituencies, including the College and Student Senates, Planning and Assessment Committee, the Administrative Team, several Divisions, and individuals, among others. Based on the input, the priorities were reviewed and narrowed to six. With positive feedback from the Community, the following six strategic priorities were adopted:
The Six Strategic Priorities
Develop an increasingly diverse and skilled workforce
Improve entering student preparedness
Define, measure and improve student success
Develop and implement programs that meet community needs
Strengthen the College's financial position
Create a culture conducive to attainment of college goals
Six teams – one for each of the strategic priorities – then worked to draft strategic plans (including goals, objectives, action steps, timelines and accountabilities). Once completed, their draft plans were posted online for community comment. Additionally, an opportunity was provided for community members to meet with team representatives to discuss the draft plans. Comments were reviewed and the plans finalized.
Every strategic plan is a living document. Progress in implementing the action steps and in reaching plan objectives will be monitored by the Administrative Team and the Planning and Assessment Committee over the term of the plan. As warranted, changes will be made to ensure college resources are focused on those priorities and activities that will help it best fulfill its mission.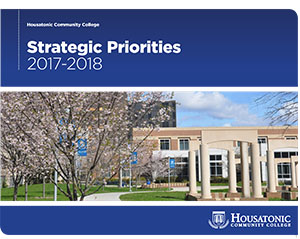 Download Now
File name: Strategic Plan