College ID Cards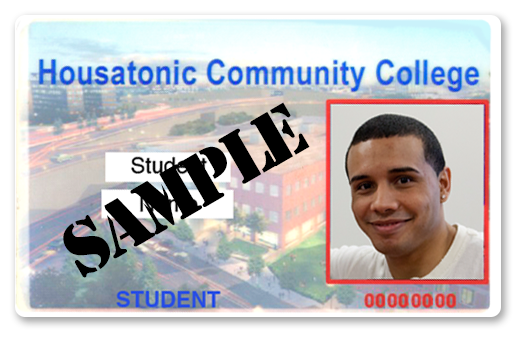 To apply for a college ID, you must be a currently registered student or employee of Housatonic Community College.
Use and Care of Your ID Card
Each student, faculty, and staff member must obtain a Housatonic identification card.
Your College ID Card…
identifies you as a member of the Housatonic community
must be presented to staff when requested
must be presented to borrow books from the library
is required for access to parking in the Housatonic Garage, and may be used to enter and exit the garage
is required for admission to college-sponsored activities and special events
Please see Security when you wish to obtain your ID card. Remember, you will need to present your class schedule and a photo identification card, (like a driver's license), to obtain one. Presently, we are not taking orders for college IDs online.
The college ID is property of the State of Connecticut and privileges may be revoked according to Board of Regents' policy.
Please treat your ID card with care. Holes, creases, and other damage will make the card inoperable when you need it to scan-in and scan-out. Do not bend the card or leave it in direct sunlight, near other sources of heat, or in contact with magnetic fields.
ID Cards for New and Transfer Students
New and Transfer Students may obtain their ID Card by coming to Housatonic after they have registered for classes and going to the security office to have one made.
Replacement Cards
If an ID card is lost, stolen, or damaged, individuals should request a replacement ID Card by going to the security office.
Lost, stolen, confiscated, or damaged ID cards should be reported immediately to Housatonic Security, 203-332-5024
To obtain a replacement college ID card, you must come to the security office.
Replacement cards are only obtainable for registered students in good standing with the college.
When an ID card is replaced, the Security Office will issue a replacement card with the photograph on record.
Taking Your Picture ID
Headwear (except religious) and sunglasses are not permitted.
Only one picture will be taken per person!