Dear Graduate,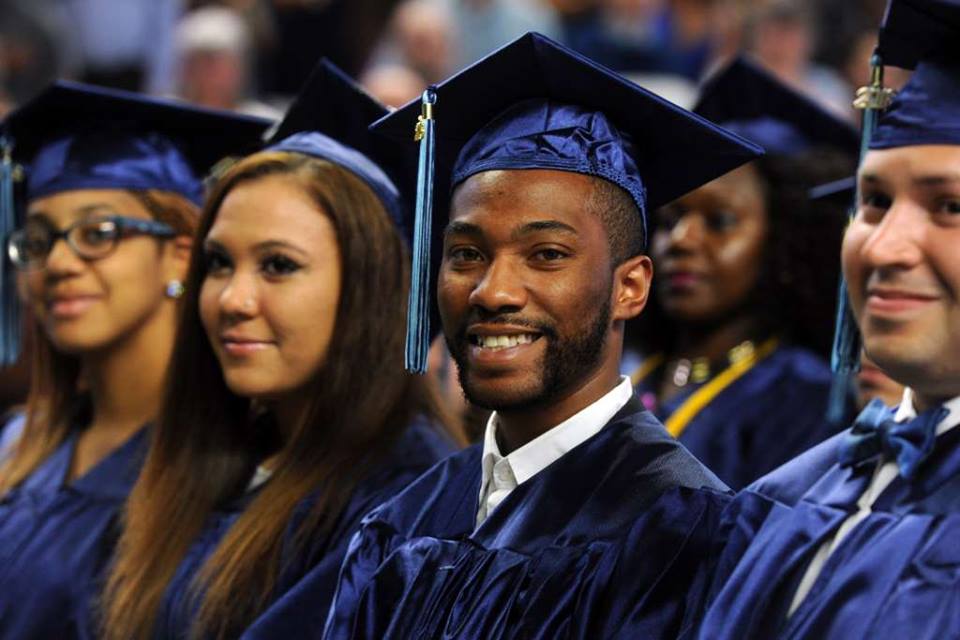 Congratulations!  Housatonic Community College's 50th Commencement will be held on Thursday, May 25, 2017 at 7:00 p.m. at the Webster Bank Arena, at 600 Main Street, Bridgeport, CT.  Congratulations on reaching this very significant milestone in your life.  We look forward to a joyful and dignified ceremony that will honor your personal achievement.
If you participated early in HCC's 2016 Commencement ceremony last May, all you need to do is pick up your Diploma and do not need to read any further.  Thank you!
Doors will open promptly at 6:00 p.m. for the arrival of student graduates and their guests.  Please report to the Arena with your commencement attire (cap, gown and tassel) at 6:00 p.m. Door will not open before that time.  All students must enter the Arena using the Guest Services Entrance only and proceed to their left once inside the concourse area. You will be directed to the Student Area by HCC Commencement Marshals and Ushers.  The 6:00 p.m. arrival time is very important because at that time you will receive all of the final instructions pertaining to graduation.  You must then robe and line up alphabetically by degree program no later than 6:45 p.m.  The ceremony will begin promptly at 7:00 p.m. and conclude at approximately 8:30 p.m.
Your guests should proceed directly to the Arena's Main Entrance for their seating. Please request that your guests allow enough time to be seated prior to the start of the ceremony.  Arena policy is that all bags are subject to search.  Additionally, there is no storage area to secure or store personal belongings. Please let your guests know that the following items are not allowed inside the Arena. Please refrain from tossing any objects during the graduation ceremony since it takes away from your special occasion.
Food
Beverages
Helium Balloons
Confetti
Baby Strollers
Gifts
Flowers
Wrapped Packages
TO ORDER CAPS & GOWNS, YOU MUST GO ON-LINE TO:
http://www.oakhalli.com/housatoniccc 
Must Order by Friday, Apr 7th, 2017
TICKETS and CAPS & GOWNS
All Graduating students must show I.D. to pick up their caps and gowns and tickets at the Bookstore:  You will be able to keep your cap and gown as a souvenir of your graduation.
Starting on: May 8th-May 22nd
Mondays and Tuesdays 9:00 a.m. – 5:30 p.m.
Wednesday and Thursdays 9:00 a.m. – 4:00 p.m.
Friday 9:00 a.m.  – 12:00 Noon
Starting on:  May 22nd – May 25th
Monday - Thursday 9:00 a.m. – 3:00 p.m 
Tickets are required for all guests and small children.  Each graduate may pick up a maximum of ten (10) tickets at the Bookstore at Beacon Hall starting May 8th during the same office hours along with Cap and Gown.  No one is allowed to pick up tickets for other students.  Extra tickets may be available after May 22rd.
HONOR CORDS
HCC Honors cords will be distributed at the Arena prior to the ceremony to students who have honors (3.4) or higher.
SPECIAL ARRANGEMENTS - STUDENTS WITH DISABILITIES:
If you are a graduate with a disability who needs special accommodations, please contact Lynne Langella, Coordinator of Disability Support Services, at (203) 332-5018 no later than May 12th.
PARKING & DIRECTIONS:
Parking spaces, including parking for the handicapped, are available at the Arena for a $5.00 fee.  Please arrange to car pool if possible; parking may be limited in the Arena's parking garage due to other events that may be scheduled in the adjacent Bluefish Stadium.  Directions to the Arena and to the College are available on the web at:
http://www.housatonic.edu/resources/graduation
COMMENCEMENT INSTRUCTIONS:
Commencement Marshals will greet you when you arrive at the Arena and provide you with instructions for lining up for the Commencement March and will also give you a name card. 
The chairs for the graduates are arranged very compactly and close together, so when graduates proceed to their seats, it will be necessary for you to move as closely to the person in front of you as possible (shoulder to shoulder) to ensure that every seat in the row is filled.  Please pay careful attention to this as it will slow down the procession line and seating and delay the ceremony otherwise.
During the ceremony, when you ascend the stairs to the stage to receive your diploma cover, you will hand your name card to the Announcer.  When your name is read, please walk across the stage to receive your diploma cover from Dr. Paul Broadie, the College's President.  If you are concerned about the pronunciation of your name by the name reader, please call (203) 332-5182 between April 26th and May 24th, 2017 to provide instructions on the correct pronunciation of your name. 
PHOTOGRAPHS:
A professional photographer from Grad Images will be available on stage to take your photograph as you receive your diploma cover from President Broadie.  An order form, price list and proofs will be mailed to you from the photographer so that you can make arrangements directly with the studio for purchasing the photographs. Guests are not permitted in the aisles to take photographs during the Commencement exercises as such activity can be distracting and may create safety concerns. 
PROGRAMS:
Commencement programs will be distributed at the ceremony.  The program will contain an alphabetical listing of graduates by degree/program as well as the order of the ceremony.
All Graduates will be given Diploma covers on stage at Commencement.  If you are a 2016 Summer graduate, you may pick up your actual diploma anytime at the Registrar's Office (B109) during regular office hours, Monday through Friday from 9:00 a.m. to 4:00 p.m. If you graduated in the Fall, you may pick up starting February 24th, 2017. Everyone must present Photo I.D.  Diplomas will only be mailed based on written request to the Registrar's Office. 
RECEPTION:  Please join us! A reception for graduates, guests, and College staff will be held in the Courtyard at Housatonic Community College, 900 Lafayette Boulevard immediately following the ceremony.  If raining, it will be held in the Beacon Hall Event Center, Room 214.   
If you have any general questions about the Commencement ceremony, please call our graduation hot line in the Dean of Students Office at (203) 332-5182.
Sincerely,
Mr. James Connolly
Interim Dean of Students