June 8, 2015
For more information, contact
Anson Smith at 203-332-5229
Third Largest Class in HCC History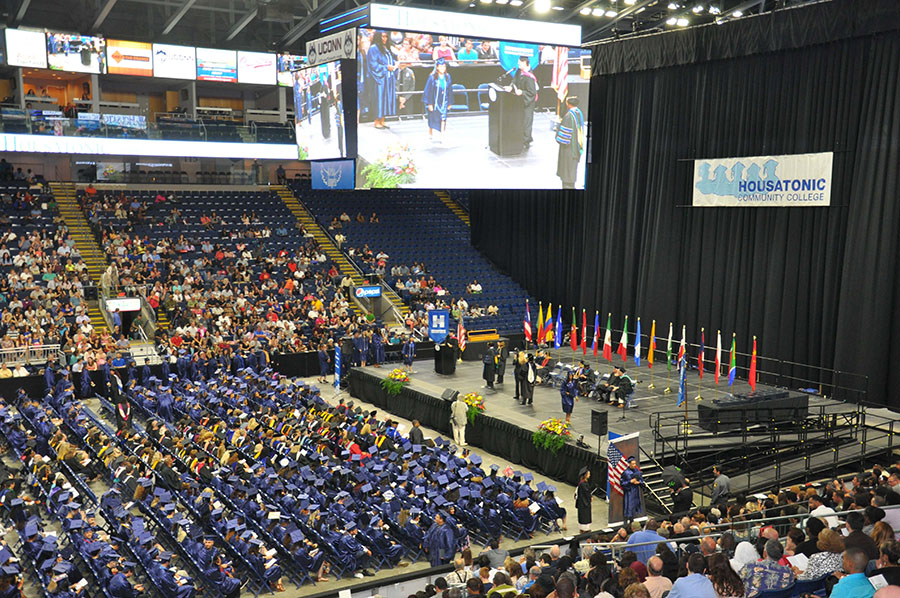 BRIDGEPORT – Twenty-three Fairfield residents were among the 601 degree and certificate recipients at Housatonic Community College's recent 48th Commencement.
The graduates, clad in the dark blue Housatonic caps and gowns, gathered at the Webster Bank Arena at Harbor Yard to be honored for their achievements by a panel of dignitaries that included Dr. Paul Broadie II, HCC's new president, attending his first commencement. With its 601 degree and certificate recipients, the class of 2015 is the third largest in the college history, behind The Class of 2014 with 668 recipients and the Class of 2013 with 636.
"It is very meaningful for me to stand before you this evening as the fifth president of Housatonic," Dr. Broadie said. "As President, I am very proud to address this amazing class as one of my first official duties at the helm of this fine college."
Housatonic has served as a foundation that fueled the graduates' intellectual, personal and professional growth, he said. It served as a beacon of hope for them and a place where dreams became a reality.
"As you move beyond these walls, reflect on your success," he said. "Reflect on the obstacles you overcame to get to this point. The same drive and passion that brought you this far will take you well into the future."
Below are the Fairfield members of the Class of 2015 listed in the following order: first name, middle initial, last name, degree/certificate (Associate in Arts, Associate in Science, CERT), major, and honors if appropriate. Graduation Honors: Honors (EH): 3.4 ‑ 3.69 cumulative Grade Point Average; High Honors (EHI): 3.7 - 3.89 cumulative GPA; Highest Honors (EVHH): 3.9- 4.0 cumulative GPA. Graduation honors do not apply to certificate programs.
· Robert Belletzkie CERT Adv. Mfg. Machine Technology
· Robert A Boback AS Human Services EHI
· Robert A Boback CERT HS: Behav Hlthcare Spec I-CT
· Lisa S Bond CERT Early Childhood Ed-CT
· Ayanna G Brown AS Human Services
· Taylor R Brown AS Criminal Justice EH
· Jasmine I Decou AA LAS: Hum/Behav & Social Sci
· Kyle R Delet-Kanic CERT Adv. Mfg. Machine Technology
· Rafael A Duran AS Criminal Justice EH
· Andrew J Erickson CERT Adv. Mfg. Machine Technology
· Reynaldo Garcia AS General Studies EHI
· Theodore E Guest CERT Adv. Mfg. Machine Technology
· John M Healy AS Bus Adm: General EH
· Alisa Kolenovic AS Accounting EHI
· John T Minlionica AS General Studies
· Carlos M Mocete CERT Machine Technology Level II
· Beatris Perez-Hernandez AS Accounting EHI
· Samantha Reif AS Occupational Therapy Asst EH
· Elias J Risola AS Accounting EH
· Tara J Spaulding CERT HS: Behav Hlthcare Spec I-CT
· Carl V Steccato CERT Adv. Mfg. Machine Technology
· Alan D Stewart AS General Studies
· Nicholas J Thommen CERT Adv. Mfg. Machine Technology
· Gerald V Vigorito AS Bus Adm: General