Tutoring Center
One-on-One Tutoring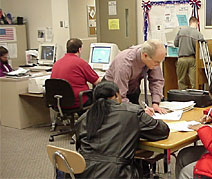 The Academic Support Center provides tutoring by peer and master tutors in most developmental and college-level academic subjects, with an emphasis in math and English. Tutoring appointments must be made in-person. Stop by Room B116 to schedule a session with a tutor.
Drop-In Math
Drop-In Math is now available at the tutoring center. With Drop-in Math, students can get immediate math help all day, every day, for an unlimited number of sessions or length of sessions. No appointments are needed for Drop-in Math, just walk in to room LH 152, and bring your books and/or homework.
Drop-In Tutoring Groups
No appointment is needed for any tutoring group. Stop by or call the ASC to check the group meeting times.
Accounting 113
BIO 105 Doc Hour
BIO 211 – A & P
BIO 212 & 211
Mega Chem - Chemistry 111
Physics 221
Online Tutoring: Anywhere, Anytime... Learn More!
Housatonic Community College, in collaboration with the Connecticut Distance Learning Consortium (CTDLC), has partnered with eTutoring.org to offer students FREE 24/7 ONLINE TUTORING over the Internet in these subjects:
Accounting
Anatomy & Physiology
Biology
Chemistry
Math Developmental-Calculus)
Statistics
Writing (All subject areas)
To create a student account and for further information go to http://etutoring.org. To open a student account you will need an email address. If you do not have one, you can open a free email account at gmail, yahoo, or hotmail.
To ask questions or request additional information contact Marianne Tecun at .

Tutoring Hours:
Monday – Thursday
10:00 AM – 7:00 PM; Friday 10AM-3PM
Academic Support Center Staff