Tutoring Center
One-on-One Tutoring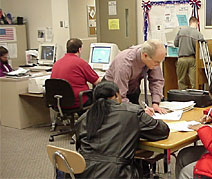 The Academic Support Center provides tutoring by peer and master tutors in most developmental and college-level academic subjects, with an emphasis in math and English. Tutoring appointments must be made in-person. Stop by Room B116 to schedule a session with a tutor.
Drop-In Math
Drop-In Math is now available at the tutoring center. With Drop-in Math, students can get immediate math help all day, every day, for an unlimited number of sessions or length of sessions. No appointments are needed for Drop-in Math, just walk in to room B120, LH, and bring your books and/or homework.
Mega Chemistry
Mega Chemistry is group tutoring for Chem 111. It is a two-hour group session held weekly, no appointment is needed. Two tutors are assigned to cover Mega-Chem. The session time and day changes each semester according to tutor schedules.
Online Tutoring: Anywhere, Anytime... Learn More!
Study Groups
You may get together with other students in your class and form a study group. We will provide a place to meet and, if possible, a tutor in that subject area to assist you and your group members. If you are interested, stop by and we will help you set up and put out a sign-up sheet, so that you may see how many others are interested in getting together with you for group study.
Office Hours:
Monday – Thursday
10:00 AM – 7:00 PM
Academic Support Center Staff