Tutoring Center
One-on-One Tutoring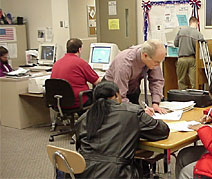 The Academic Support Center provides tutoring by peer and master tutors in most developmental and college-level academic subjects, with an emphasis in math and English. Tutoring appointments must be made in-person. Stop by Room B116 to schedule a session with a tutor.
Math Tutoring
By appointment - Students can make an appointment to meet one-on-one with a tutor from 10-12 in the morning and 5-7 each evening.
Drop-In - Math students may also drop-in from 12-5 each day, without an appointment, and stay as long as needed.
Drop-In Tutoring Groups
No appointment is needed for any tutoring group. Stop by or call the ASC to check the group meeting times.
BIO 105 Doc Hour
BIO 212 & 211
Mega Chem - Chemistry 111
Online Tutoring: Anywhere, Anytime... Learn More!
Housatonic Community College, in collaboration with the Connecticut Distance Learning Consortium (CTDLC), has partnered with www.eTutoring.org.
Writing - All Subjects including Graduate-level Writing
Math (from the developmental level through Pre-Calculus)
Calculus I and II
Statistics
Accounting, including Business Accounting, Business Law, Financial Accounting and Cost Accounting
Biology
Anatomy & Physiology
Chemistry
Nursing
A&P, Biochemistry and Pathology
Computer Science, covering C++, Java and Computer Programming 1 & 2
To create a student account and for further information go to http://www.etutoring.org.
To ask questions or request additional information contact Marianne Tecun at .

Tutoring Hours:
Monday – Thursday
10:00 AM – 7:00 PM; Friday 10AM-3PM
Academic Support Center Staff