Welcome to the Tutoring Center
Located in Lafayette Hall in Room LH B152
The mission of the Academic Support Center (ASC) is to provide a full service tutoring experience that cultivates student success. By fostering a supportive environment, the ASC strives to inspire students at every level of preparedness to advance, to excel, and to reach their fullest potential.
The ASC is comprised of a collaborative group of dedicated educators who strive to enhance the learning experience, and academic and professional achievement of HCC students through comprehensive services, which include: 
---
Log in to Accudemia to make, reschedule, or cancel tutoring appointments.
Your username is your Banner ID number and your password is Tutoring2019.
---
Tutoring Hours
Monday – Thursday, 9am – 7pm
Friday, 9am - 3pm
---
Departments 
---
The Academic Support Newsletter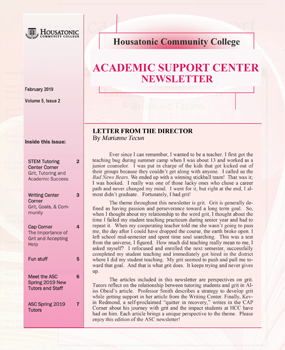 Download Now
File name: February 2019 Newsletter
To see an archive of other newsletters, please click here.
---
Academic Support Center Staff