Surgical Technology at HCC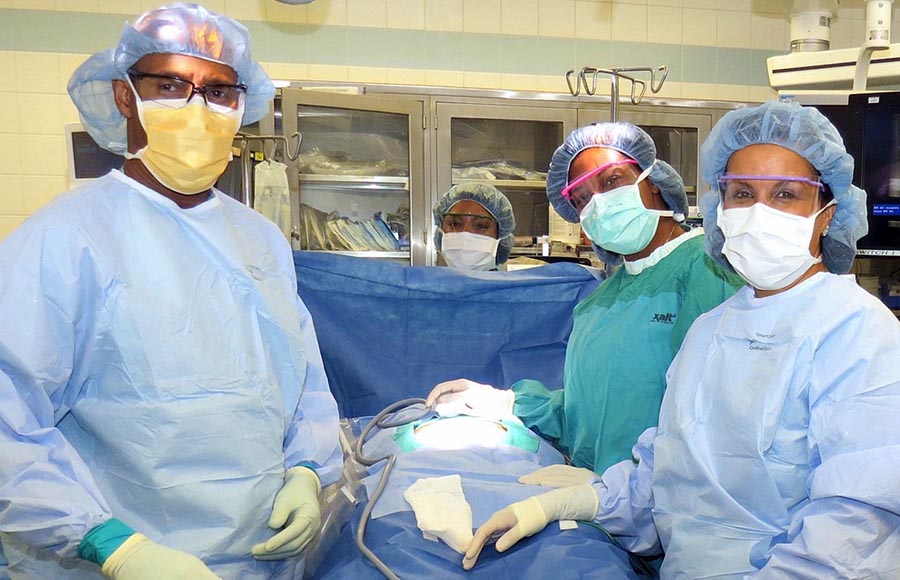 The Surgical Technology Associates Degree Program is designed to prepare graduates to assist surgeons in the operating room. Pre-clinical classes will be taught in a newly constructed operating suite specifically designed for this program. This clinical program is based on the guidelines provided by the Association of Surgical Technologists and the Connecticut State Colleges and Universities Board of Reagents.
Once accepted into the program, students will begin with a semester of pre-requisite courses in the fall, followed by specialized surgical technology courses in the spring semester of the first year. Students will continue their training by observing and assisting in surgeries from the end of the first year until the end of the program. A minimum of C+ is required for science courses and a C in all other courses.
Once students successfully complete the two year program, they will be eligible to sit for the National Board of Surgical Technology and Surgical Assisting (NBSTSA) examination. A passing score on this exam will enable the student status as a Certified Surgical Technologist, employable in all 50 states.
About Surgical Technology
Surgical Technologists are integral members of the surgical team who work closely with surgeons, registered nurses, and anesthesia personnel. Surgical technologists are also responsible for assembling and organizing all the specialized instruments, equipment and tools needed for a wide variety of surgical procedures. They are experts in sterile technique, responsible for maintaining the sterile field during surgery.
This program is accredited by the Commission on Accreditation of Allied Health Education Programs (CAAHEP)
1361 Park Street, Clearwater, FL 33756
Phone: 727-210-2350
Fax: 727-210-2354
Email:
Outcome Assessment Examination Results
100% of the students were NBSTSA/CST exam eligible.
100% of the students passed the CST Exam.
100% of the students were placed in jobs.
Program Outcome statistics are from the 2016 Cohort. There is no graduating cohort for the 2018 annual report.
Job Opportunities
The U. S. Bureau of Labor Statistics estimates that employment of Surgical Technologists is nationally projected to grow 15% from 2014 to 2024, much faster than average.
The final class of Surgical Technologists graduated from Bridgeport Hospital School of Nursing in May, 2016. No new graduates will be available until HCC graduates its first class in May 2019. There is already a growing need for Surgical Technologists in area hospitals and surgical clinics.
Interested in Signing Up?
---
For more information:
Sherifa S. Douglas, Program Coordinator
(203) 332-5993

Download the latest Surgical technology brochure here!