New Students
If You Have Never Applied or Have Applied but Never Attended*
Registration Steps
All offices listed below are located in Lafayette Hall
Submit an Admission (blue) Application & Request SAT Waiver, if eligible, at the Admissions Office (LH-A106), (203) 332-5100. You can APPLY ONLINE when available or download the application below.

Prepare for Placement Test at Center for Academic Progress (CAP) (LH-A227), (203) 332-8585.

Schedule Placement Testing with Banner ID, (203) 332-5019 & bring SAT Waiver to LH-B116.

Contact Health Services for MMRV (Measles/ Mumps/ Rubella/ Varicella) immunization requirement (LH-A113).

Meet with an Advisor in Room (LH-A111) or (LH-A108).

Check Status of Financial Aid (LH-A102), (203) 332-5047.

View course schedule here or in the Self Help Room (LH-B107) and complete Registration Form.

Register at Registrar's Office (LH-B109) and proceed to Bursar's Office (LH-A104) if no Financial Aid.

*Students who have applied to HCC in the past, but have never attended, should use the Reactivation Application, download here.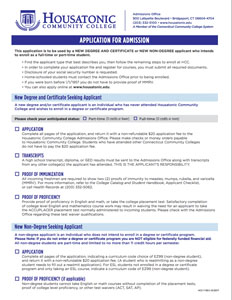 Download Now
File name: CCaST Brochure