New Student Orientation
Student Orientation occurs prior to fall and spring semester for new students. The dates for the Spring 2018 orientation are:
Monday, January 8t from 10AM-12PM
Monday, January 8t from 1PM-3PM
Tuesday, January 9th from 3PM-5PM
Tuesday, January 9th from 6PM-8PM
Remember, orientation is a requirement for all new students attending Housatonic Community College. Transfer and Readmit students are also encouraged to attend.
New Student Orientation is designed to give you a jump start to familiarize yourself with the programs and services at Housatonic Community College. During orientation you will have a tour of the campus, learn techniques to be a successful college student, and meet other new students who will be starting classes at Housatonic. You will also have an opportunity to meet some of HCC's phenomenal faculty and staff. Additionally, we invite Parent/Loved Ones to attend orientation as well. The Parent/Loved One Orientation is designed to provide information to parents, spouses, and guardians on college policies and supporting students.
Please register using the online form below. Phone reservations will not be accepted. If you have any questions or concerns, please e-mail your first and last name, banner id #, contact number and concern to . Please allow 48 hours for an e-mail response Monday-Friday.
PLEASE NOTE: Registration for New Student Orientation has closed. If you would like a copy of the orientation materials please stop by the Student Life Office- Beacon Hall Room 317 on Monday, August 28th or Tuesday, August 29th between 10am – 4pm.
---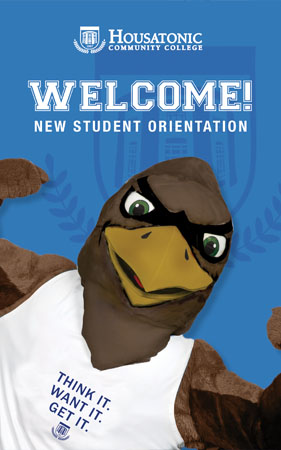 Click Here to Download Our Handbook!
File name: Orientation Handbook